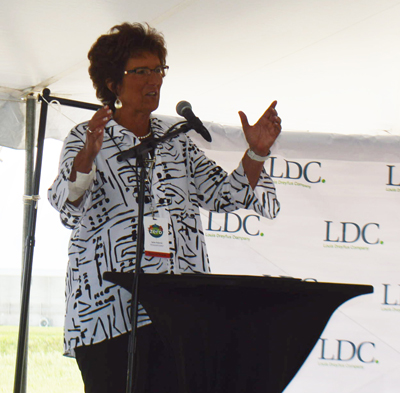 **UPDATE: As of 12:50 p.m. on 08/04/2022
Upon further investigation, the Elkhart County Sheriff's Office has released the following statement, sharing that their initial beliefs were incorrect on how how yesterday's fatal crash occurred. This crash involved Congresswoman Jackie Walorski and three others.
Police say the silver Toyota Rav 4 carrying Walorksi, driven by Zachary Potts, was traveling northbound on SR-19 when it crossed the center line and collided with a southbound vehicle, driven by Edith Schmucker.
Below is the full statement that was released by police a few moments ago.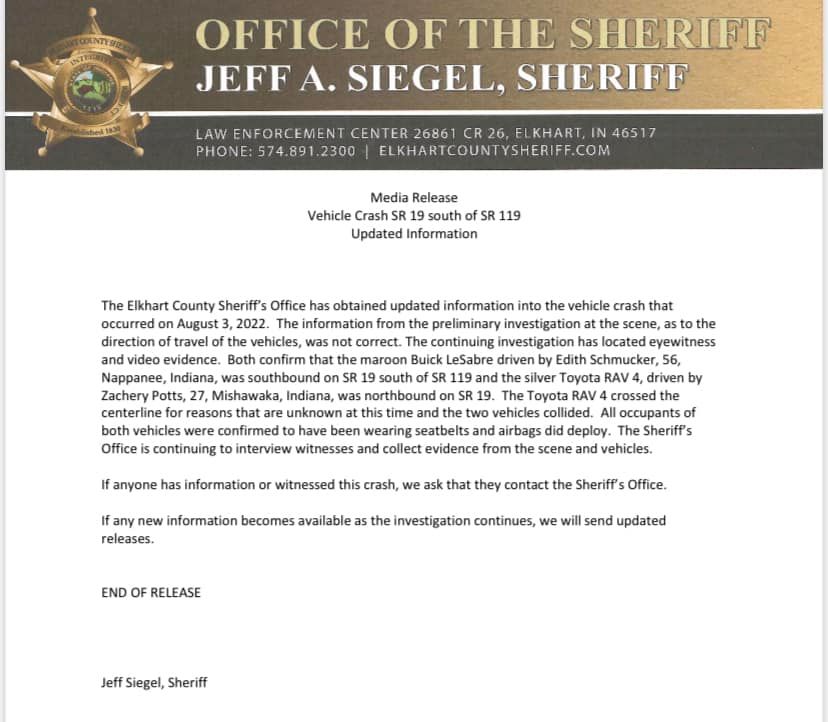 ** ORIGINAL ARTICLE: As of 4:00 p.m. on 08/03/2022
Four people, including 2nd District Representative Jackie Walorski, were killed in a crash at State Road 19 and State Road 119, north of Nappanee.
The collision happened around 12:30 p.m. on Wednesday, Aug. 3.
Walorski had just attended the Louis Dreyfus Company's grand opening of its new soy liquid lecithin plant in Claypool until about noon today. The crash occurred approximately 30-60 minutes after her departure from Claypool.
The driver headed southbound on State Road 19 was killed, according to the Elkhart County Sheriff's Office.
Two passengers in the vehicle headed northbound were killed, the sheriff's office reported.
The driver of the northbound vehicle was taken by ambulance to Elkhart General Hospital in critical condition but has died, as well.
The Elkhart County Sheriff's Office has released the following information: 
On August 3, 2022 at approximately 12:32 PM the Elkhart County Sheriff's Office responded to a two vehicle crash on SR 19 south of SR 119. A northbound passenger car traveled left of center and collided head on with a southbound sports utility vehicle.
All three occupants in the southbound vehicle died as a result of their injuries:
Jackie Walorski, 58, Elkhart, Indiana
Zachery Potts, 27, Mishawaka, Indiana (St. Joseph County Republican Party chairman)
Emma Thomson, 28, Washington, DC (Communications Director, Office of Rep. Jackie Walorski at U.S. House of Representatives)
The sole occupant of the northbound vehicle, Edith Schmucker, 56, Nappanee, Indiana was pronounced deceased at the scene.
The Elkhart County Coroner's Office and the Elkhart County Sheriff's Office are conducting the investigation.