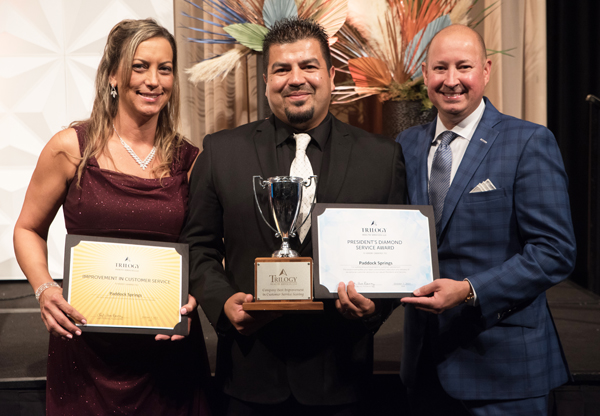 Paddock Springs, a Trilogy Health Services senior living community in Warsaw, recently was honored with an award for outstanding customer service during the company's annual fall meeting held earlier this month in Fort Wayne.
By placing residents and families first, Paddock Springs exceeded the expectations of the people it serves, earning the prestigious President's Diamond Service Award, according to a news release from Trilogy Health Services. The honor recognizes Trilogy communities who scored 9.50 or above out of 10 on their customer satisfaction surveys.
Paddock Springs earned an overall score of 9.73 from feedback in categories including staff attitude, quality of care, food quality, activity programming, appearance and cleanliness. The campus also received the trophy for most improved scores companywide.
"At Paddock Springs, our team is committed to providing second-to-none services to the seniors we serve – even in extraordinary times. Our scores on the customer satisfaction survey represent our team's dedication to servant leadership, and it is with great pride that we receive this recognition," Berto Nunez, executive director, said. "We're honored to have received such positive feedback from our customers and promise them that we will continue to strive to exceed their expectations."
Twice a year, Trilogy Health Services solicits feedback from the residents and families they serve. Responses are viewed as invaluable and are used to identify places where the campus excels as well as opportunities for growth. Companywide, over 10,000 surveys were mailed to family members and other responsible parties.  Nearly 82% of customers responding said they would recommend their Trilogy campus to someone who required senior living services, the release states. Trilogy Health Services currently operates over 120 senior living communities throughout Indiana, Ohio, Kentucky and Michigan.
Paddock Springs is a Trilogy Senior Living Community. To learn more, call 574-325-5845, follow them on Facebook and Twitter or visit their website.