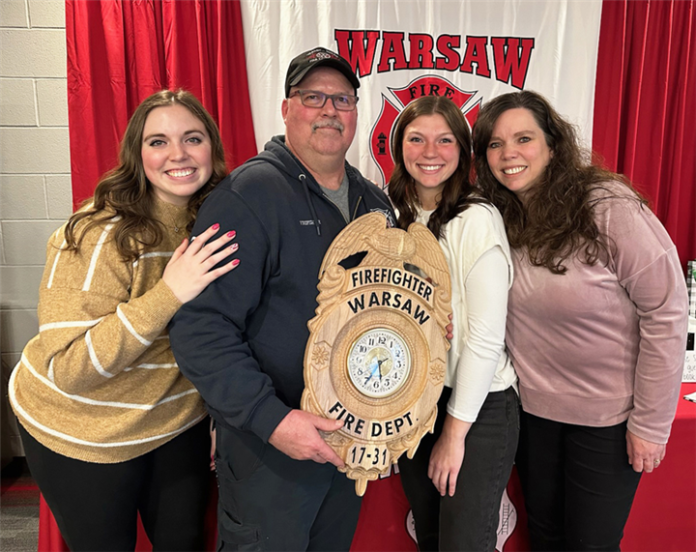 By David Slone
Times-Union
WARSAW — After four years of volunteer service and about 20 years as a full-time firefighter, Fred Parrett decided to retire from the Warsaw-Wayne Fire Territory.
On Monday evening, a retirement party for Parrett, 53, was held at WWFT station No. 3 in his honor, with many of his friends, family and co-workers there to wish him well.
Parrett decided to become a firefighter approximately two dozen years ago when he moved to the area from Wabash and wanted to do something to serve his community.
"I thought what better way to do it than to be a fireman," he said.
Before fighting fires, Parrett was a welder, which he's done for 32 years and still does. "It's another hot job," he said, but he said it definitely was a change going from welding to being a fireman.
He's not fully retiring from work. Parrett said he's going from WWFT to Grossnickle Eye Center full-time as a maintenance man. And he's sure he'll stop by the fire stations to see the guys.
"There will be times I'll have to come get my firehouse coffee. Talk with the guys," Parrett said.
What he's enjoyed the most about being a firefighter is helping the community.
"Helping people. Any time that we go out, somebody's having a bad day. It's our job to make it better for them, and I've had a lot of opportunities to make people's days better," Parrett said.
For the most part of his career, he said he was at station No. 2 for "probably 15 years," with about five years at stations 1 and 3.
When he's not working at his new job at Grossnickle, Parrett said he'll be fishing, golfing and enjoying his hobbies and family.
Whether they've known him a short time or a long time, the other WWFT firefighters said Parrett will be missed.
Assistant Chief Aaron Bolinger has known Parrett for the entire 23 years Bolinger has been with the department.
"He was a volunteer when I started," Bolinger said. "Fred was always a good guy. Just a really good guy."
The last few years, Bolinger said, Parrett has taken a big interest in Cardinal Services' clients, especially honorary fireman Tim Hunt. "He has become such an anchor for Tim and taken care of him. A very good example," he said.
Replacing a firefighter with decades of experience like Parrett is very difficult, Bolinger said. "They know the ins and outs and how everything runs. Now you've got to bring in a guy that knows absolutely nothing," he said.
Kyle Martin, who's known Parrett for about four years, said, "He's a fun guy to work with."
Brian Zehring has known Parrett since he started working at WWFT 11 years ago. He said Parrett is "very knowledgeable on the mechanical side of things. We'll miss him."
Seven-year WWFT veteran Tony Shilling has known Parrett for the entire time he's worked with the department.
"I didn't work with Fred on shift, but from what I did know of him, he's always been really respectful to me and helpful to me, in the short time that I've been here. Really helpful," Shilling said.
Fire Marshal Joe Fretz has known Parrett for as long as Parrett has been with the fire department.
"Fred is really knowledgeable on the truck and everything," Fretz said. "He's very respectful to everybody. He would do anything for anybody. Just a good guy. He will definitely be missed here."
Fred and Kim celebrated their 29th wedding anniversary on Sunday.
"He was a volunteer in '98 and then started full-time in 2002," she recalled, adding that having a firefighter for a husband "is pretty awesome because we have gotten to know some people that he has helped save or maybe fought a fire at their house or helped them in a car wreck. And we've actually gotten to know some of the families and we're actually friends with them now. So, that's kind of really neat."
Kim said Fred has missed a lot of birthdays and holidays and family gatherings over the years. "But when we stop and look at the people he's helped, that makes it all the better, makes it all OK that he had to be away from us sometimes. But he was helping others."