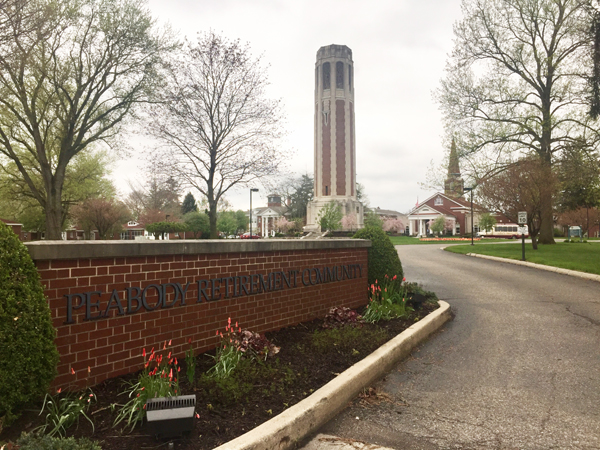 New testing procedures are being implemented at a North Manchester senior living community after 46 employees there tested positive for COVID-19.
Peabody Retirement Community, 400 W. Seventh St., North Manchester, is a full-care facility that includes independent living to skilled nursing health care. More than 350 people work at Peabody, and as of Wednesday afternoon, 46 of those employees have tested positive for COVID-19, according to Rod Craft, executive director at Peabody.
"The Peabody Retirement Community, like many senior living communities nationwide, has been preparing for the COVID-19 pandemic for several months,"?Craft said. "Out of an abundance of caution, we have chosen to proactively test all of our more than 350 employees. Proactively testing all employees allows us to see if there is someone who might be positive but asymptomatic. We believe early identification of the virus will help us to best protect our entire community."
Craft said they began testing the employees April 21, and the 46 employees who tested positive are self-isolating at home.
"We wish them a full and rapid recovery," Craft said. "We will continue to share any new positive cases with our residents, families, employees and appropriate county health officials."
Starting this week, Peabody began voluntarily testing all residents, Craft said.
"This will enable us to identify any positive resident cases before the individual shows signs or symptoms, which will help us implement any additional precautions to stop the spread of the virus," he said.
Craft said the residents are aware of the testing process and that results of those tests will be shared when the information becomes available.
Peabody is run by Iowa-based company LCS, which serves more than 40,000 senior residents across the country and employs more than 30,000 people.
LCS CEO Joel Nelson said in a statement that LCS senior living communities "Continue to follow the directives of local and state public health officials, the Centers for Disease Control and Prevention, and the Centers for Medicare and Medicaid Services, to implement measures that will further limit exposure to COVID-19," including regular health and wellness checks for residents.
"As a community, we are working closely with the LCS Risk Management and Health Services Clinical teams, the Wabash County Health Department (and those of surrounding counties), the Indiana State Department of Health and the CDC as we navigate COVID-19," Craft said.
"The testing process is new to all of us," Craft said. "We anticipate we will have more positive test results as we continue our proactive testing efforts with residents. However, we remain firm in our belief that this information is one piece of the puzzle that helps us as we make decisions to protect the health and safety of our community moving forward."