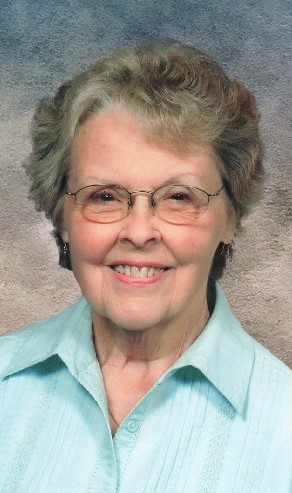 Phyllis Adele (Ailer) Swanson, a longtime resident of the Atwood area, passed away at her home on Monday, November 29, 2021. Age 89, Phyllis was surrounded by her loving family at the time of her death.
Born on October 15, 1932, near Talma (Fulton Co.) Phyllis was one of four daughters born to Russell W. and Blanche A. (Wynn) Ailer. She spent her formative years there before her family relocated to the Atwood area where her parents owned and operated a restaurant. Phyllis was a 1951 graduate of Atwood School and went on to marry Robert M. Swanson of Atwood on April 23, 1954. Known to most as "Bob," he survives at home.
Professionally, Phyllis worked in several positions before starting her family. She also worked throughout her married life with her family on their farm. She was a devoted mother who raised her family with the perfect blend of kindheartedness and guidance.  Later, once her children were grown, she worked for Etna Bank in Atwood.
For Phyllis, family was her top priority and her greatest love. She was genuinely proud of her five sons and their families. She was a loving, gracious, and compassionate person. She enjoyed travel and winters in Florida for many years. She also enjoyed painting, crossword puzzles, reading mysteries, and time spent in the natural oasis on their family homestead.
In addition to her husband of nearly 68 years, Bob Swanson, those who survive with memories to cherish include five Swanson sons: Greg (wife, Brenda) of South Carolina, Mike (wife, Amy) of Warsaw, Scott (wife, Bonnie) of Winona Lake, Jeff (wife, Claudia) of Warsaw and David (wife, Lora) of Atwood; grandchildren: Jon Swanson of Warsaw, Chelsea Slayter of Phoenix, Arizona, Austin (Meredith) Slayter of Middletown, Robert (Kelsey) Swanson of Warsaw, Reid (Kirsten) Swanson of Warsaw, Remington Swanson of Warsaw, Spencer Swanson of California and Anna (Matthew) Fear of  Fort Wayne.  Additionally, she is survived by six great-grandchildren, which she absolutely adored; a sister, Donna Ailer of North Manchester and many nieces and nephews including Vicki (Tim) Mikel with whom she was especially close. She was preceded in passing by two sisters: Velma Horn and Thelma Peterson.
A memorial service is planned to take place at Atwood Otterbein Church, 306 East Main Street, Atwood where Phyllis' family has attended for many years. The service will begin on Saturday, December 4, 2021, at 1 p.m. Gathering will take place after the service and continue until 3pm. Warsaw's Titus Funeral Home and Cremation Services is assisting the family.
In lieu of flowers, gifts may be directed to either of the following charities, Kindred Hospice or the Salvation Army, Warsaw. Envelopes for giving will be available at the church. Written messages of condolence may be left at www.TitusFuneralHome.com