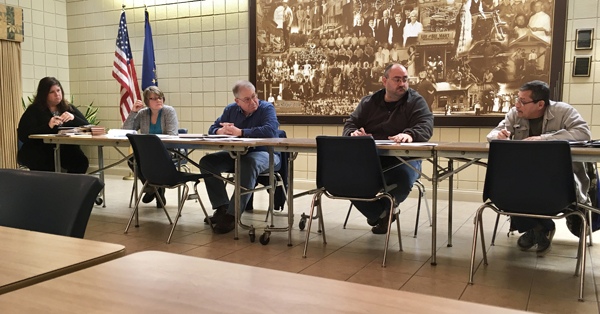 Town marshal Tim Sammons asked the town council to award Jim Bumbaugh his duty weapon, a Sig Sauer bought by the council last year, as part of his retirement package.
Matt Brubaker asked why Sammons was making this request six months after Bumbaugh left the department.
Sammons said he's had it on the back burner but had been occupied by new hires. Bumbaugh retired after 16 years of working for the Pierceton Police Department and Sammons said a lot of agencies award retiring officers with a weapon.
Brubaker said there were a lot of agencies that didn't do it, too.
Council President Tom Barker said the replacement piece would come out of the police department's budget and the item was tabled to next month.
Sammons said officer Ryan Piper is currently at the police academy and officer Brooke Koldeway will go later this year.
He said the new 20-miles-per-hour speed limit signs are in but they're not all installed.
Sammons said the PPD will facilitate a police cadet program with 14 students from Whitko, Tippecanoe Valley and Warsaw. The students will meet with local, state and conservation officers once a month and discuss law enforcement topics.
He said the cadets would do community service, working at festivals and helping to direct traffic.
Utility supervisor Casey Boggs said he's waiting on a quote on a feed line at the wastewater treatment plant.
He also wants to purchase some woodworking tools because there's only a reciprocating saw at the shop.
Councilman Mandy Espinoza asked for a list and quotes for the tools.
Barker asked for a daily cost to add polyaluminum chloride to the sewer outflow, which cuts phosphates. Because of the additional costs he's concerned that the sewer bill might have to be increased "a bit."
The council met in executive session prior to the regular meeting to discuss personnel matters. Town lawyer Tammy Keirn gave a synopsis of the meeting, saying the person recently fired from the clerk's office, Carrie Owsley, was asking for a severance package for hours worked, vacation and compensatory time. Owsley was the town's utility and payroll clerk, fired by new clerk-treasurer Myra Mast Jan. 3.
Brubaker noted there was nothing in the town manual to justify severance pay but vacation and compensatory time were approved payments, which the council OK'd.
The board looked over a contract submitted by Retha Hicks, who is a consultant for Accelerating Indiana Municipalities, the former Indiana Association of Cities and Towns organization. Hicks helps new clerks familiarize themselves with their duties.
Former clerk-treasurer Janet Castle asked why one person, who knew the job fairly well, was fired only to hire another person.
Mast said Hicks wouldn't be long-term.
The council approved Hicks for 30 hours of training, and if more hours were needed Mast will have to come back to the council to extend her contract. Hicks charges $40 per hour, plus mileage, for office visits.
Mast also said the Keystone software used for budgets is obsolete and she presented a quote of $7,750 for another software program.
Outgoing clerk-treasurer Jerry Kreger said the Keystone program still works and was working when he left office but there wouldn't be any more upgrades. He said there are other software programs approved by the state and several are cheaper than the one presented. The item was tabled by the council.
Clerk's office hours may change, Mast said, to 6 p.m. on Thursday, 4 p.m. on Friday and a half day on Wednesday, but she'll make a decision depending on  when customers come in during the week.
Deputy clerk Linda Bailey's hours were increased from 32 to 36 per week, although Barker noted she is still considered part-time.
The Pierceton Redevelopment Commission meets Thursday at 6:30 p.m.; park board reorganizational meeting is at 7:30 p.m. Thursday.
The next regular meeting is Feb. 10.