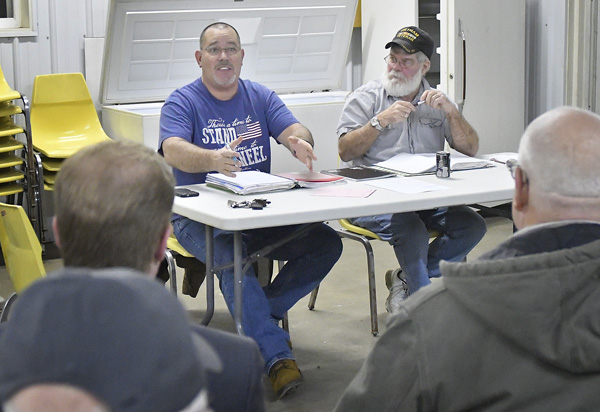 The town of Sidney just has a town board president after two board members and the clerk-treasurer resigned, effective today.
Republican Clerk-Treasurer Lana Wolfe and Board member Ricky Bradley had to resign after it was learned last week they were serving on the board "improperly." With those two resigning, and due to his illness, Democrat Kenneth Koontz also chose to resign. The board president is Jack Wolfe, husband of Lana.
While the Kosciusko County Democrats have 30 days to schedule a caucus to replace Koontz, the County Republicans have scheduled a caucus to replace Bradley and Lana Wolfe at 6:30 p.m. Jan. 23 in the Sidney Fire Station meeting room. A caucus for the Democrats hasn't been scheduled yet.
Declarations of candidacy for the Republican positions are available at the office of Kosciusko County Clerk, 121 N. Lake St., Warsaw, and must be filed with Party Chair Mike Ragan no later than 72 hours before the meeting Jan. 23. Due to the town having only one precinct committeeman (Tony Ciriello), Ragan will consult with Ciriello and then fill the vacancies.
Ragan's contact information is 574-265-1430 and mragan@sprintmail.com.
After the town board meeting Monday night, Ragan explained why the resignations were necessary to the board and the public. He was accompanied by Kosciusko Democratic Party Chair Brian Smith and GOP Party Secretary Austin Rovenstine, who also is an attorney.
"A few days ago it was brought to my attention that there was some possible irregularities with the election or non-election of certain peoples on the Sidney Town Board. And after research, we did come to the conclusion that Ricky and Lana are – due to clerical errors or whatever – improperly in position," Ragan said, adding that they asked for their resignations. He confirmed that Jack Wolfe was the only real "legal" member on the board and was a "carry-over" because no one ran or filed against him.
Rovenstine said 2011 was the last time there was a formal election process.
Ragan said no one from the town of Sidney has stepped up to file at the county clerk's office for these positions in the last municipal elections – with the last municipal election being in 2019.
"So according to Indiana state law, and I guess it's in the (Indiana) constitution, that if nobody files and you hold a position, and you have an election, you're held over and you can stay on" until you're challenged in an election, Ragan said. "And that is what has happened with Jack."
Smith was asked if a Democrat couldn't be found to replace Koontz, if a Republican could do it. Smith said that was possible if the Republican signed a formal document and became a Democrat. They would have to pledge to vote Democrat in the next election, though Rovenstine said that was "unenforceable."
Ragan said Bradley resigned because he wasn't properly appointed or elected to the board. Lana Wolfe was a holdover, but resigned in 2017 as clerk-treasurer and Marcia Dierks replaced Lana for six months. After Dierks resigned, Lana should have been appointed to return as clerk-treasurer, but she was not – she just went back to doing the job. "So therefore, she really couldn't be your clerk-treasurer," Ragan said.
Ragan asked Rovenstine if Bradley was eligible to file for the caucus for the town board position. Rovenstine replied, "No. The person who resigned is not eligible to file for the same position under state law." Lana Wolfe also can not file for the caucus for clerk-treasurer, though she and Bradley could file to run in the 2023 municipal elections.
Resident Sharon Rancourt asked if Bradley could run for Koontz's seat. Rovenstine said he'd have to declare he was a Democrat, which Bradley said he wouldn't do. She then asked why the person replacing Koontz had to be a Democrat.
"The people elected, at some point, a Democrat to that position and it's been held over ever since. When a Democrat resigns, then it's the party that is responsible for making that replacement. So going forward, whenever someone resigns from the board, you'll need to contact the chairman of the party that elected them, and then the party makes the replacement," Rovenstine explained.
He said what appeared to happen with Bradley was that he showed up to a meeting one day, with the previous councilman resigned, and everyone asked Bradley to do it and he "stepped up to the plate," Rovenstine said. "I think he probably did a pretty good job here, from what I've been able to gather. And I don't hold it against him at all what's happened. I don't expect him to consult a lawyer before he takes a position on a board," Rovenstine continued.
Ragan said Bradley could file for clerk-treasurer, but he shook his head "no" at that idea.
If no one volunteers to fill the positions on the board or clerk-treasurer, Rovenstine said it will fall to the political parties to find replacements.
Smith explained that in Indiana, the ballot a person chooses in the last primary determines what political party they are a registered member of. If a person has never voted in a primary at all, they would have to talk to the party chair of the political party they are interested in.
Any person seeking the town board or clerk-treasurer position has to live in the town limits. "We're screwed in other words," one man said. "Who's going to run?"
Rancourt asked about special elections. Smith said Indiana code doesn't allow for special elections.
Ragan suggested the town board should have an attorney at its future meetings. Matt Shipman of Columbia City is the town's attorney, but Jack Wolf said he doesn't attend the meetings.
Until a new clerk-treasurer is chosen, Ragan said the books, checks and other information of the town should be taken to County Auditor Michelle Puckett for safe keeping.
Asked if there were any legal or financial repercussions for Lana Wolfe and Ricky Bradley because they were in their positions improperly, Rovenstine at first would not comment during the public meeting but said he'd talk to Bradley afterward. He later answered the question with a "maybe." Ragan said the Indiana State Board of Accounts "is really the final say on all of this." Smith didn't want to say anything inaccurate but directed those questions to the ISBA.
The town board members receive $800 gross every six months, but Jack and Ricky couldn't say how much the clerk-treasurer is paid.
Resident Marvin Evans said in 1953 he was on the town board and "it wasn't done right then. I don't blame people for how it is right now, but that's just the way it was. I was appointed at a meeting, and a couple of years later I decided I didn't want to do it so I quit. So they got someone else to do it and there was no election. It's time to get it straightened out."
Ragan, also speaking for Smith, said, "We will do whatever we can to keep this from happening again."
A town with sewer must be incorporated, and an incorporated town must have at least a three-member town board. Sidney is in year 10 of its 30-year bond for the sewer, and it was incorporated in 1914. Smith said he didn't realize the town was incorporated, and Ragan didn't realize it was until recently.