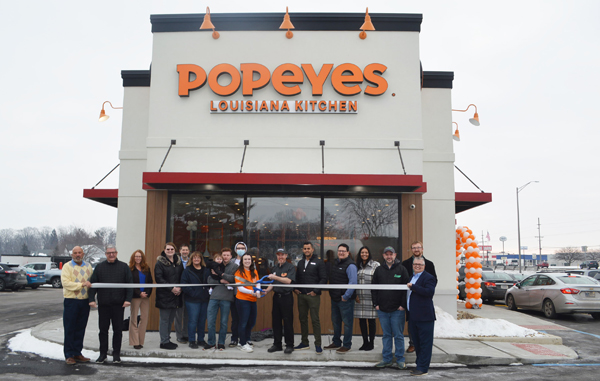 Anticipation for Popeyes officially opening in Warsaw Monday morning was high, especially for four Lakeland Christian Academy juniors.
Seth Martin, Ben Jackson, Alex Cook and Zeb Stills got in line at 7 a.m. for the 10 a.m. opening.
"We're hoping to get free food, maybe, I don't know," Jackson said as to why they got in line so early. "I've never really eaten Popeyes before, so I was pretty excited to come eat today."
He said they "maybe skipped school a little bit" to be there.
Jackson said he wanted the chicken tenders because "I know they're crispy and they sound really good. I want to try them."
Popeyes is known for its chicken sandwich and that's why Martin ordered it. Cook and Stills also went for the chicken sandwich.
Popeyes, 3501 Lake City Highway, opened at 10 a.m. Monday after the ribbon-cutting ceremony with the Kosciusko Chamber of Commerce.
Sean Rahman, chief operating officer for Aby Groups Popeyes; Chris Rapson, district manager for the Warsaw Popeyes location; and Nick Knouff, general manager for the Warsaw Popeyes, were excited that the day had finally arrived for Popeyes to open to the public.
"We know it's been a long time making. Warsaw has been asking for us for years and years to come here. They're tired of driving to Elkhart or Fort Wayne to get some mild to spicy chicken or a chicken sandwich. We're happy to be here," Rapson said.
He said Popeyes is open 10 a.m. to 10 p.m. seven days a week and they'll be giving other chicken restaurants down the street some healthy competition.
As of Monday morning, Rapson said they have 62 employees.
"We believe we're paying people well, we're paying people what they deserve, what's fair and they came in droves," he said. "We have applications that we haven't even called back yet right now. We want to be the employer of choice coming into Warsaw. We believe everybody back there is going to be here for a long, long time, also."
For those who may not have had Popeyes before, he said the menu includes their signature mild and spicy chicken.
"We marinate the chicken for 12 hours. We've been doing that since around '72, before we were called Chicken On The Run, so now it's Popeyes," Rapson said.
Also on the menu is the chicken, chicken tenders, chicken nuggets – which just came on the menu a couple months ago, "and, of course, the world-famous chicken sandwich that started it all," he said.
There's also the popcorn shrimp, "which is pretty amazing," he said.
Asked if they'll be offering Door Dash or any other similar service, Rapson said they will but want to make sure any possible issues are worked out first.
"We don't want any slow service or anybody not to get what they wanted or ordered," he said. "We will be rolling it out, but we just want to go ahead and get our feet wet in the community first."
Though it's predominantly drive-through, Popeyes does have indoor seating that can accommodate 48 people and has 19 parking spaces.
Along with the hope of being the employer of choice, Rapson said, "We want to go ahead and make sure that we're good stewards to the community of Warsaw, that when people look at Popeyes they're not thinking of just an employer that is just trying" to make money. "We want to be involved in the community. Sean and Nick and I have all talked about what we can give back to the community just as much as they're giving to us as well. We want to be around and be around for a long, long time and just have everybody think of Popeyes nothing but positive."
He said they want families to come into Popeyes for generations and be able to recall good memories of their time spent at Popeyes.
A soft opening was held Saturday for first responders and city officials, and then Sunday for a local church.
"It went absolutely amazing. Had a line, we had the fire trucks. We gave away free food," Rapson said.
Popeyes also was able to raise $1,600 over the weekend for Habitat for Humanity.