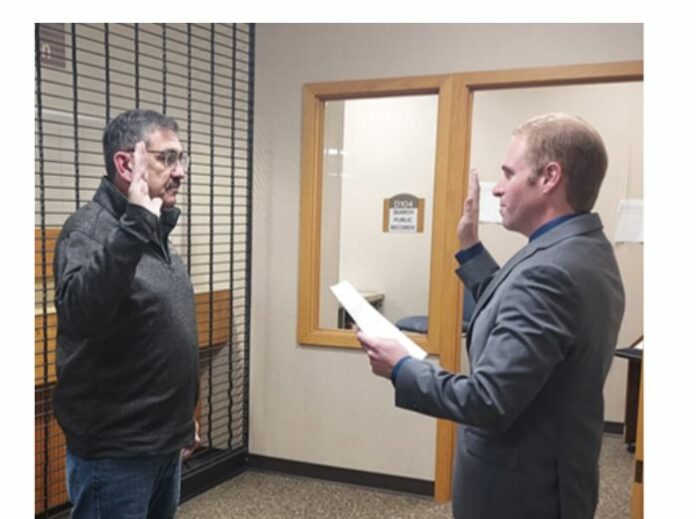 By Jackie Gorski
Times-Union
WARSAW — Mitch Rader will join Leesburg Town Council at the beginning of the year.
He was appointed Tuesday by Kosciusko County Republican Central Committee Chairman Mike Ragan at the Kosciusko County Justice Building.
Rader fills the seat vacated by Doug Jones who resigned effective Dec. 31 after about 14 years on the council.
Rader's term will end at the end of 2023.
Rader faced two other candidates for the position – Darrin Lincoln and Amanda Brookins-Bibler.
Ragan thanked all three candidates for their interest.
"I interviewed the three candidates. I believe all of them are qualified. Any one of them would be an asset to the Leesburg Town Board," he said. "However, in addition to the interview, several Leesburg citizens contacted me in support of Mitch Rader, which weighed heavily in the selection."
Ragan read a prepared statement after the appointment: "We congratulate Mitch Rader on this appointment and wish him well in his new position and are confident that he will serve the citizens of Leesburg with courtesy and professionalism. The Kosciusko County Republican Party again thanks Doug Jones for his many years of service to Leesburg."
Rader served as clerk-treasurer for Leesburg for four years in the 1980s. A 45-year firefighter, he served 30 of those years as an officer, according to a previous Times-Union article.
Rader thanked Jones for his 14 years of service, as well as Brookins-Bibler and Lincoln for their interest in the town of Leesburg.
"I'm sure they'll be able to help the town along in later years," he said.
He said he'd like to explore some grants to help Leesburg establish economic and community development initiatives. Rader said he mostly looks forward to working with council members Tom Moore and Christina Archer to further the work they put forward and help them on any ventures the council deems necessary for the town