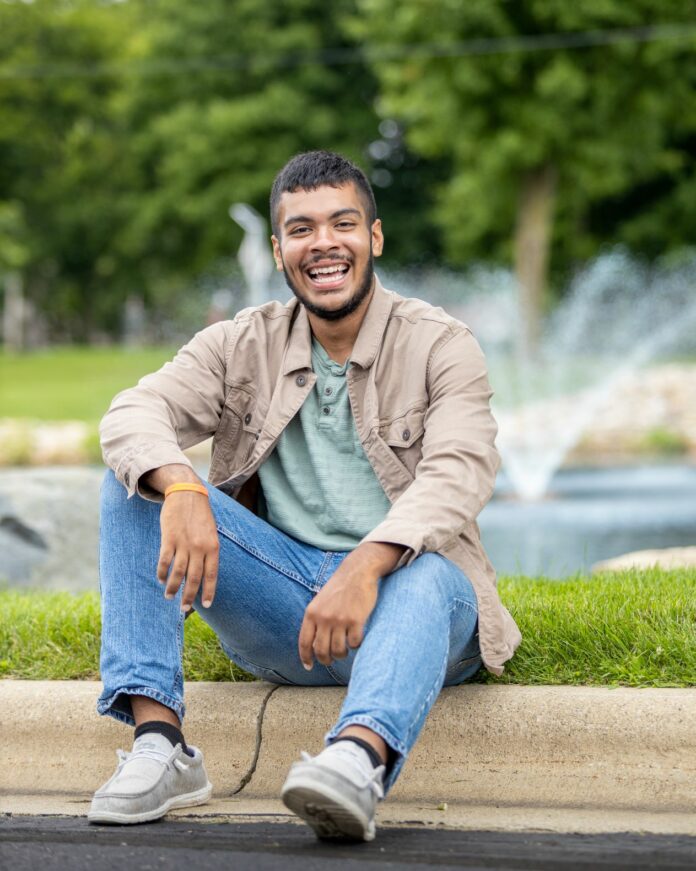 Grace College welcomed a near record-breaking number of incoming students to campus on August 17-18.
New students at Grace number 463 this year, making it the second-largest incoming class in school history, topped only by the incoming class of 469 in 2016. The incoming class is also the most socioeconomically and racially diverse class in Grace College history.
One of the first introductions students have at Grace is to the annual campus theme.  This year's theme is "Journey." Grace prefaced the coming year by framing the inevitable changes and shifts as part of a journey the campus will weather together. This idea resonated with one student in particular, as his journey thus far has been full of challenges.
Jamall Smith, of Columbia City, Indiana, lived in a transient household for the majority of his life. His family moved frequently around Indiana: from Huntington to Kokomo to Noblesville. He also spent some of his childhood in Chicago. The constant moves made it difficult for him to keep up with his education. Jamall became accustomed to continuous transitions with new school districts, teachers and curriculum.
"My life journey has been an up and down roller coaster," Jamall explained. "Moving schools, it was hard to keep up with the other students. As I got older, I had to find the motivation within me to compete academically. It would have been easy to just give up," he said.
When Jamall was 15 years old, he entered the foster care system. At age 16, he began attending Whitko High School when he was placed with Steve and Ashley Smith of Columbia City, Indiana.
"I love them to death. I call them my parents because they hold me responsible for everything, and I do the same for them," said Smith.
Smith explained that his parents were crucial in his journey to college.
"My biological grandparents were the last people in my family to go to college," he said. "I was scared that I might not be able to make it to college. So ever since third grade, I've had the mentality that I've got to keep pushing myself," he explained.
Jamall's mom, Ashley Smith, testified to his persistence, "Jamall has been so resilient throughout high school and his college search," she said. "He knew he wanted a small campus and an encouraging atmosphere, so Grace was an easy choice for him. As parents, we love knowing that Jamall is in a Christ-centered environment to learn, and we are excited to watch him grow there," she added.
Smith is studying criminal justice with a minor in pre-law in hopes of becoming a prosecutor — a dream he has had since sixth grade.
"I want to fix the system and be an advocate for justice," he said. And according to Jamall, Grace is the perfect place to begin that dream. "Grace is going to help me follow the plans God has for me. I know that He created me to make a change in this world," he said.
True to his resilient spirit, Smith intends to continue on to law school after he graduates from Grace.
Smith's financial aid package at Grace relieved the burden of college costs so that he can make his big dreams a reality. Grace College provides significant financial aid for students. Lower-income students from Indiana can attend Grace tuition-free through a combination of federal, state and institutional aid.
Learn more about Grace's new affordability measures for students at www.grace.edu/financialaid.