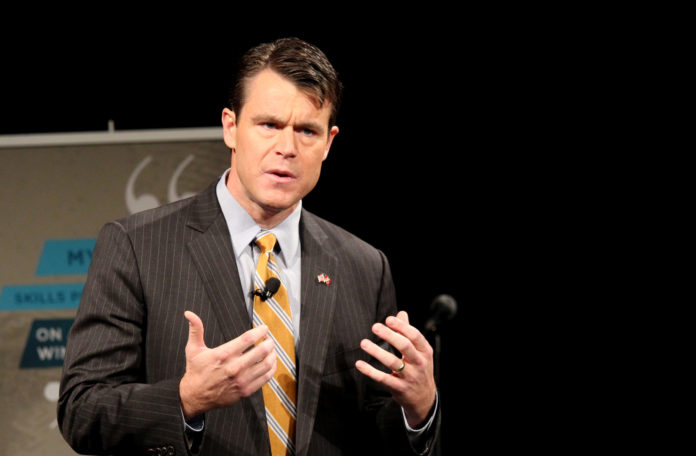 U.S. Sen. Todd Young on Friday announced over $3 million in grant funding for airports in Warsaw, Huntington and Indianapolis from the U.S. Department of Transportation for infrastructure upgrades.
Warsaw Municipal Airport will receive $1,134,772 for runway 18/36 rehabilitation, according to the news release from Young's office.
Mayor Joe Thallemer said the funding is for the complete rehabilitation and rebuilding of the north/south runway. The city knew it was going to get funding for the project, but had to go out for bids and get a final cost for the project first. After the COVID-19 pandemic, the city learned it would not have to come up with a 10% match.
At the Aug. 11 Warsaw Board of Aviation Commissioners meeting, updates to the runway 18/36 extension and the power line lowering projects were provided by Nathan Lienhart, project manager for CHA, the airport's aviation design and planning consulting firm.
On the runway project, Lienhart said, "We were able to secure the funding needed at a little bit lower level than what we were hoping, but, nevertheless, we are still able to get the project completed to a level that we think is still in the spirit of the original plan and design."
The aviation board approved a change order, which reduced the contract amount for Phend & Brown to $1,729,311.76.
For the other two airports mentioned in Young's press release, the Huntington Municipal Airport will receive $1,323,117 for runway rehabilitation, and Indianapolis International Airport will receive $1,100,000 for taxiway reconstruction.
"After working to secure funding for Indiana's infrastructure, I'm proud to announce these grant awards for Huntington, Indianapolis and Warsaw airports," said Young. "I'll continue to advocate for investments that strengthen our state's infrastructure so we can remain the Crossroads of America."