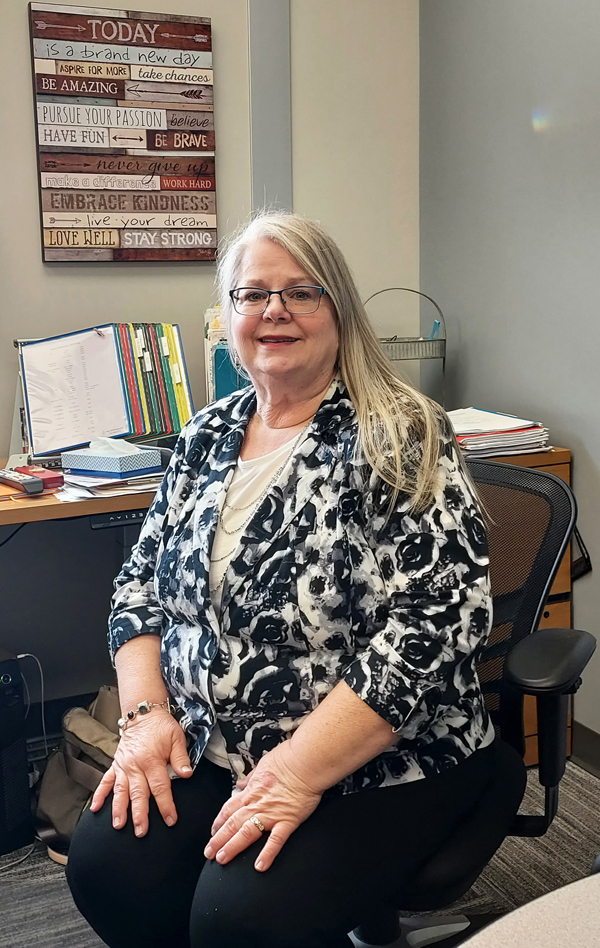 Ronna Kawsky, director and principal of the Warsaw Area Career Center, will be retiring at the end of June after serving in her position since 2010.
Ben Barkey, principal at Madison Elementary, will become director and principal of the WACC effective July 1. Kawsky said Barkey will do an amazing job.
When asked what got her into the education field, Kawsky said she loves people. She loves seeing the light bulb moments with students understanding things. Her biggest pull is education is a tool "that makes you powerful. It puts you in control of your own life," she said. Education is the tool to make your life the way you want it and allows you to drive your life the way you want it.
Kawsky said she started off in education teaching in the inner city of Indianapolis Public Schools for three years. She and her husband wanted to raise their children in a small community, so they moved north. She was a stay-at-home mom for 10 years. In 1988, she started working as a family and consumer science teacher at Warsaw Community Schools and was a department leader.
She said she loved teaching and she kept getting visits to her classroom. One of the superintendents told Kawsky she needed to become an administrator.
"And I'm like, 'Nope. I'm perfectly happy. I'm gifted at being teacher. I love doing this, this was what I was meant to do,'" Kawsky said.
She was told she only impacts about 100 students a year and if she were to become an administrator, she could impact hundreds. She said she never looked at it that way, and she went to study educational leadership and give being an administrator a try and she loves it.
She received her master's degree in educational leadership from IPFW.
Some of the programs that were started in her tenure as director and principal of WACC include fire rescue, culinary arts, aviation, advanced precision machine, human and social services, athletic training, cosmetology, automotive and certified clinical medical assistant programs.
Kawsky said she would listen to the voices of the students and what their hopes and dreams were in what they wanted. She would investigate options and see what could be done and try get that career pathway implemented.
The WACC provides course credits, which is almost all tied to college credit. Many of the WACC's programs are tied to national certifications. So if a student takes the welding program, Kawsky said the student is skilling up to take the certification for the American Welding Association and the student is also enrolled with Ivy Tech for welding. At the end of two years, the student should be able to graduate with 12 to 15 college and possibly two or three national certifications. That can happen in several programs such as welding, automotive and culinary arts.
Kawsky said it's been her goal that every student who walks across the stage at graduation at Tippecanoe Valley High School or Warsaw Community High School has a diploma and skill with a certification that matches up. Kawsky said the WACC has realigned things so more seniors will be ready for work-based training for jobs. The center has also being working to move the certification tests to be taken during the student's junior year, so during their senior year, the senior can go to work with that certification.
Kawsky talked about the changes she's seen in her tenure at the WACC.
Her staff used to feel they were getting kids that weren't going to do anything else, but now they're preparing for their future. So there's a shift in thinking. The students feel like they're a valuable asset. Staff members feel like they're valuable assets because they're able to skill up students for entry-level positions right out of high school. Students are more engaged, even in their core classes, Kawsky said, because they are finding their passion.
"They're diving into things that they really, truly enjoy and want to explore earlier in their career than they were before and more options than they've ever had," she said.
Kawsky said she believes the WACC is seeing evidence parents understand a four-year degree is not a requirement for every child. When Kawsky had her children, she wanted them to go to college. However, if they were to start over this year, she would be asking what kind of skill her children could prepare themselves for. That skill might require a four-year degree and it might not. If students could learn those skills at the WACC and learn they love or don't love those skills, Kawsky said it is value added for the rest of their lives.
When Kawsky started, she said the WACC was the best kept secret in town.
"And I'm happy to say I don't think we're the best kept secret in the town anymore. People know about us. They know we exist. They're aware of the programs and they're aware of  the changing … Industry knows we exist. They know the quality of students we're releasing into the job market and they're pursuing us and that's exciting," she said.
She thinks the attention to the WACC has changed in the community because of the level of rigor and the attention to the instruction the WACC is giving students.
Kawsky said she's not leaving her position because she's done making a difference. She's leaving her position at the WACC because she wants to enjoy her husband and "have some fun while we're young and healthy" and make a difference again.
An open house for Kawsky's retirement will be 10 to 11 a.m. May 31 at the Blue Apron, 1 Tiger Lane,?Warsaw.
When she retires, Kawsky and her husband purchased an RV and they are leaving July 12 for a trip around the United States that will take a year. She said they're planning on staying around the perimeter of the country, so they will visit Glacier National Park, Washington state and California. One thing they're planning on doing is going to the 50th anniversary of the balloon fest in Albuquerque, N.M., and take a hot air balloon ride. They're going to spend the winter in Florida and head off to the East Coast in the spring.
They then plan to have a cottage on Chapman Lake and learn to speak Spanish fluently so they're going on a extensive vacation to Spain.
She said when she retires, she will not miss waking up at 5 a.m. and writing grants and doing paperwork. However, she will miss the teachers. She loves her staff, WCS and Tippecanoe Valley School Corporation.
"I will miss them. I will still be apart of them … I am not disappearing. I'm just going to have some fun. I'm still be in communication," Kawsky said.