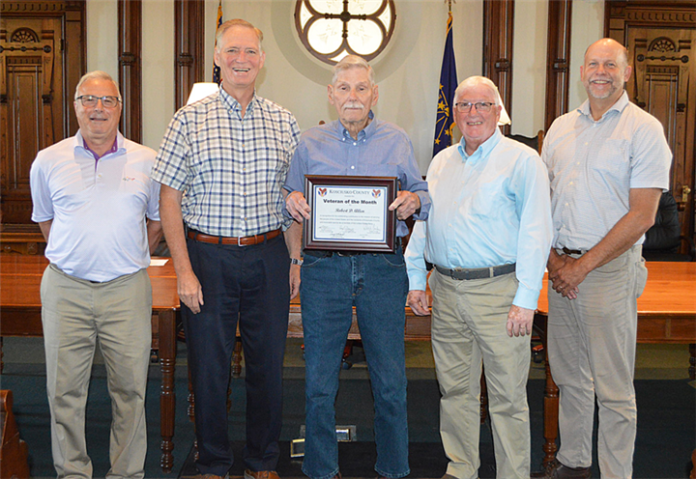 A U.S. Navy veteran from Leesburg who trained as an electrician's mate is the July 2022 Kosciusko County Veteran of the Month.
Robert D. Allen, a lifelong resident of Kosciusko County, was born on Aug. 17, 1931, to Herman and Helen Allen, according to the biography of Allen prepared and read by Veteran Service Officer Darryl McDowell at the Kosciusko County Commissioners meeting Tuesday.
Allen graduated from Leesburg High School in 1951 and enlisted into the U.S. Navy that same year.
His basic training was at Great Lakes Naval Training Center about 40 miles north of Chicago. In December, he was sent to Naval Station, Newport, R.I., and assigned to Fletcher class destroyer USS Melvin (DD-680). He trained as an electrician's mate and was responsible for maintaining all on-board electrical equipment.
"You can imagine how extensive that is on a ship," McDowell said.
In November 1953, he was assigned to Butler class destroyer escort USS Woodson (DE-359) based in Key West.
Allen sailed the Atlantic, Caribbean and Mediterranean, and traveled from Norway and north of the Arctic Circle to Cuba, Panama and ports around the Mediterranean.
He was honorably discharged in September 1955, having achieved the rank of sergeant E5, and earned a Good Conduct Medal, National Defense Medal and Navy Occupation Medal with Europe Clasp.
He returned home to Leesburg to his former job at Milford Machine. He then worked for Goshen Case Company for 22 years as plant manager before joining Da-Lite Screen in 1985 and retiring in 2000.
He married Sandra Hartman on Nov. 7, 1953, and they had four children: Kay, Kip, Ken and Kraig; eight grandchildren and seven great-grandchildren.
He still lives in Leesburg but, unfortunately, Sandra died in 2010. He stays very busy with hunting, fishing and farming, McDowell said. Allen enjoys family, Cubs baseball, IU basketball and making kettle corn.
After being presented with the framed certificate, Allen said, "Thanks for everybody being here. I was surprised when I got this. I always wondered how they got it. I found out. People (asked) where I had to go, I told them I had to go to the courthouse. I didn't tell them why."
He said he told them they'd found out in the newspaper.
"Thank you," Allen said.