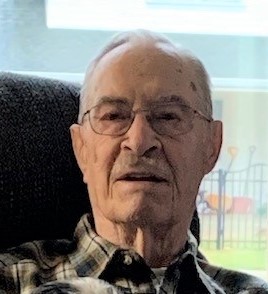 Robert D. Ferverda, 89, of Warsaw, Indiana, passed away on Friday, February 18, 2022 at his residence.
Born on May 6, 1932, in Kosciusko County, Indiana, Bob was the son of G. Dean and Dorothy (Loyd) Ferverda. He was united in marriage to Nancy (Mishler) Ferverda on August 20, 1954, in Huntington, Indiana.
He was a graduate of Leesburg High School in 1950. He proudly served his country in the U. S. Navy during the Korean Conflict. Bob was a lifetime resident of Kosciusko County.  He was formerly employed at Zimmer retiring in 1991.  He also managed the Uptown Hardware Lumber-Leesburg for 10 years and was a barber in Leesburg for 7 years.
His memberships include a past board director of the Kosciusko Community Hospital, Leesburg Lions Club, North Webster American Legion, Masonic Lodge 32nd  degree Scottish Rites and the Leesburg United Methodist Church. Bob was inducted into the Kosciusko Hall of Fame Basketball in 2011.
Bob will be lovingly remembered by his wife of 67 years Nancy Ferverda of Warsaw; daughter Amy Lee Taylor of West Chester, OH, and son Dirk Dean Ferverda of Syracuse; 4 grandchildren and 8 great grandchildren. He was preceded in passing by brother Thomas Ferverda.
Interment will be held at a later date at Oakwood Cemetery, Warsaw.
Memorial donations may be made to:
Shriners Hospital for Children
2211 North Oak Park Ave.
Chicago, IL 60707-3392
To Sign the Guestbook or Send a Condolence go to www.mchattonsadlerfuneralchapels.com