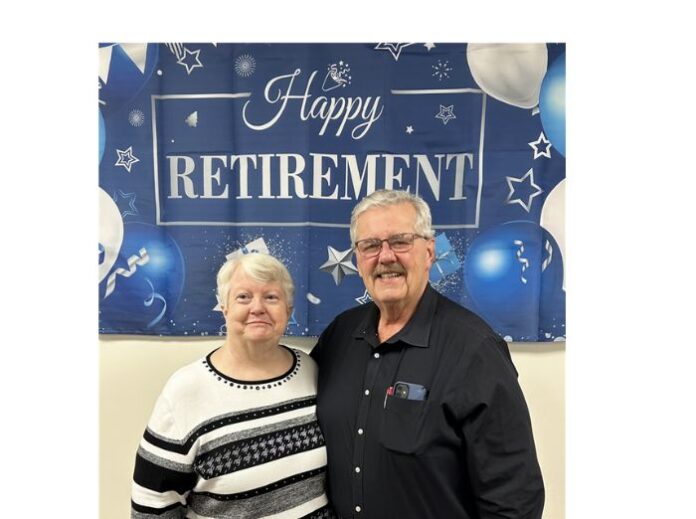 By David Slone
Times-Union
WARSAW — Dozens of family and friends gathered Thursday for Ed Rock's retirement party in the Kosciusko County Justice Building.
The most common words they used to describe Rock was "mentor," "wealth of knowledge" and "a good guy."
Rock's official retirement time as the county Emergency Management Agency director, after 19 years in the position, was 4:30 p.m. Thursday. Assistant Director Kip Shuter became the director at that time.
Sheriff Jim Smith has known Ed for as long as he's been in law enforcement.
"Ed is very knowledgeable in his realm. He's been a wealth of knowledge in terms of managing his type of scenes," Smith said. "One of my favorite parts about Ed is, he knows no stranger and he loves to sing, so I try to get him to sing as much as I can. I haven't found a venue where he's afraid to do it, so it's always fun. We're certainly going to miss him and he's been a very intricate part to the county in what he does."
Smith said Shuter has "big shoes to fill," but "seems to be meshing just fine" and has the right mentality to assume Ed's role.
"I know Ed has done everything he can to set (Shuter) up for success," he stated.
Cary Groningerhas been a county commissioner for almost six years, but he's known Ed well before then. What Ed has brought and provided to the county over the years has been vast, he said.
"I've been to multiple trainings and things. Even outside the county he's highly respected in his position and knowledge, and I've seen firsthand in some of the different emergencies we've had over the years that Ed was able to really keep a calm, cool head and be able to take the heat off the fire departments so they could do their portion … so I really appreciate what Ed has brought to his position because he was our first EMA person," Groninger said.
He said Ed has been involved with the EMA since its start, but Groninger was also looking forward to what Shuter will do with what Ed has put together. "He has a really good foundation to build from that Ed has built for the county, so we're excited to see what that might do as well," Groninger said.
Winona Lake Fire Department Public Information Officer Mike Cox said he's known Ed a long time, since they were both on the fire department.
"I was EMA for Warsaw for two years, and he was my mentor in getting that going, so we worked together. I was across the street so I could run over and see him and bother him every day. He's been a good teacher," Cox said, saluting Ed for all he's done. "He's just a good guy and I'm proud to call him a friend."
Lonnie Fisher, a meteorologist with the National Weather Service, said he's been here since 2002, just a couple years before Ed became the EMA director.
"I was involved with him back when Kosciusko County had a Hazmat team. I was on the team for a couple years before it disbanded. I interacted with him in my job as a meteorologist," Fisher said. "… I stayed in contact with Ed when we have any disasters that happen, investigating damage, any hazmat incidents from weather information. So, I've been very close to Ed now for many years, and it's been great working with him. It's about time for him to retire, time for him to have his own time back again and enjoy life. He will be sorely missed."
Clyde Avery is the EMA director with Marshall County.
"I started in 2006, and Ed was kind of my mentor when I had questions about the program initially starting out because my background was law enforcement. The EMA role was a little bit different than what I was used to, so if I had questions about grants or anything, I would call Ed and give him the question I had and he would give me an answer," Avery said.
County Councilman Tony Ciriello has known Ed for close to 40 years. "Personally, he's been a great friend. I've learned a lot from him in my law enforcement career about the hazmat end of things and so on over the years. He's been a great mentor for that. He's done a fabulous job with our EMA over the years."
Mentone Fire Chief Mike Yazel has known Ed since the early 1980s. "He's just always been a real asset to our fire department and things and been a good friend through the years," Yazel said.
Kevin and Marsha McSherry have known Ed since before he had children. Kevin is the Burket Fire Department fire chief and Marsha is the county administrator.
"It's been a long time. They lived in Mentone, we lived south of Burket, and it was fire department-related that we got to know them," Marsha said. "Ed has been very helpful to me in his position that he served in. He's always willing to lend a helping hand. He'll do whatever you ask of him."
As the first EMA director, Ed has set the position pretty high, Marsha said, but "he would tell you that he's excited to see where Kip takes the position as well."
Kevin said Ed is "a good guy. He's well-rounded in his thinking. He didn't come out on a fire scene trying to tell us everything to do. He said, 'Where can I help?' And for this county, that was a perfect fit. He had the resources, and if we needed to pull from that, we just asked him and he did it."
Kevin is optimistic that the county has a good replacement for Ed in Shuter. "He was a past fire chief at Winona Lake. A city police officer and a captain and an administrator there. And Ed's had some time to coach him," Kevin said.
Shuter said Thursday was kind of bittersweet for him.
"I've known Ed a long time. He's been a real mentor to me throughout the years, but even over these last three months, I've just seen so much more of what he's capable of and the knowledge that he has, and he's helped impart that to me over these last three months, and I'm just really grateful for that, and I hope I can carry on the legacy that he's created with EMA and take it to the next level," Shuter said.
He agreed that it takes a special person to be a mentor. "He is truly one of those men that you can call a mentor," Shuter said.
Like Smith said, Ed is known in part for his singing. Salvation Army Envoy Ken Locke said he and Ed have done many events together over the years. "He would sing and I would pray. So, we've done (so many)," Locke said.
"We used to call it the Rock & Locke Show," Ed said.
Locke said Ed has done a great job as the EMA director and is certainly deserving of accolades and retirement.
"I first met him when he came here as the emergency disaster director, so whatever year that was. I had seen him other places, but that's when I really met him," Locke said. "He also serves on our advisory board for The Salvation Army. He's been on the board about four years now."
The biggest expertise Ed brings to the advisory board, Locke said, is that Ed is "just a wealth of information – when there's disaster, fire, whatever, he's the go-to guy anyway."
Ed's youngest brother, David Rock, said Ed has always been a good brother. "He's always been a good guy," David said, adding that Ed has always been a hard worker. "Always. I think it comes from Dad. Dad has pretty good work ethics, so did Mom, so we all kind of get that from them."
On his last day, Ed said he was feeling "fabulous."
"And it's fantastic the number of people who have shown up. It's just great. And all of these – they're relationships that I've built over the last 20 years here, and it's humbling to see this kind of turnout," Ed said.
He said he was perfectly at peace with the clock winding down to his official retirement.
"Especially, I know that I've got a good man coming in to take over and improve it, so I am perfectly happy with the way it has played out here," Ed said.
After picking up a table on Friday, Ed and his wife, Lee Ann, who retired from Tippecanoe Valley School Corporation two years ago, will travel to Maryland to see the grandchildren.
Lee Ann said Ed retiring was kind of "surreal."
"I never thought he would retire, so I guess I won't really believe it until the alarm doesn't go off in the morning, but I'm very happy for him because he's worked really hard. He's worked since he was a teenager. He's worked really hard, and this opportunity came for him to be EMA and he put everything into it. I'm just really happy that he's done what's he's done, it was a dream and I'm happy that it came to fruition for him," she said.