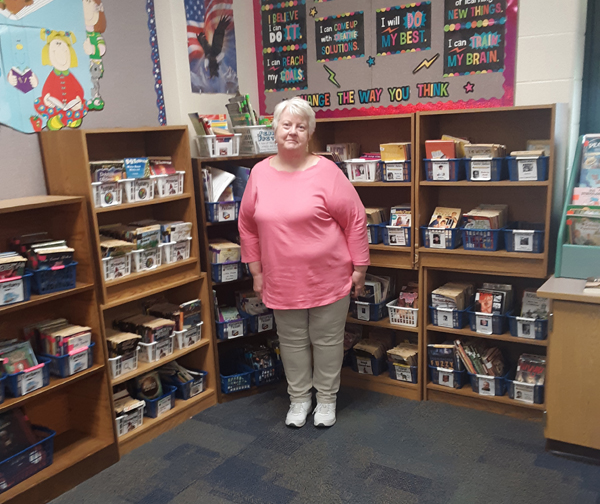 After 44 years of teaching at Mentone Elementary School, Lee Ann Rock will be retiring at the end of the school year.
"When I walked into school as a first-grader, I loved my teacher and I just said, 'I'm going to be a teacher when I grow up,'" Rock said. "And at that point, that was my focus and I never left. I started saving money in a piggy bank to go to college someday and I did. And I never changed my mind. I always wanted to be a teacher."
She got her bachelor's degree from DePauw University and her master's degree from Indiana University.
Rock grew up in Bourbon and is a Triton graduate. She got married after college and lived in Warsaw for a couple years, but Rock and her husband decided to move to the area because she liked the area.
When Rock got out of college, she said teaching jobs were hard to come by and she graduated and interviewed at Mentone Elementary in December, but "I wasn't hired then. And that summer, they called me back and they made me an offer," Rock said, noting she liked the school and the person that was hired to be the principal "and so I came here."
Rock was hired in fall 1979 at Mentone Elementary School. She taught second grade for two years and moved to fourth grade after that. She's taught fourth ever since.
In fourth grade, Rock said she teaches math, reading, writing, word work and Indiana history.
"I have a passion for Indiana history. And I think that's one of the things, one of the reasons why I loved fourth grade is because I love math, I love teaching some things like long division and multiplication. But I love, truly love Indiana history. And reading has been a passion of mine. I've had a lot of students and parents come back and say that they love reading with me, that I instilled them a love of reading and that's just very humbling and very satisfactory that that happens," she said.
There have been a lot of changes in education, Rock said.
"When I taught second grade, the principal of the building at the time bought a computer for the building and it was Texas Instrument computer and it was more of a Playstation-type thing. You know, it had cartridges and we work on it for addition and subtraction," Rock said. Her principal gave the computer to her to try out.
She said she has tried very hard to keep up with technology and to use it as much as she can in her classroom, noting it's just "amazing" what schools can do with technology. Last spring, Rock said students were sent home with paper and pencil packets.
"And I really wanted to see my kids, so I started Zooming with my kids. And whoever would have thought that I would be able to sit at my dining room table and work with them at their dining room table? So technology has been huge," Rock said.
When asked what made her decide to retire, Rock said she taught with a woman named Marge who retired a few years ago and Rock was told she would know when it's time to retire. Rock said she feels it's time.
Rock said her students are 1:1 with computers, using them for research and other assigned tasks. She said her class has also used Zoom to bring people into her class and interview them. One example she gave was Mentone Fire Chief Mike Yazel. The students interviewed him and wrote reports on that.
"My parents are in their 90s and I want to be able to have some time to be with them and help them to do the things they want to do. Just a lot of things I want to do outside of teaching, and I'm going to miss it a lot because I love what I do. And I know I'm going to miss it, but in my heart, I feel the time is right," Rock said.
She said she has family members in other states she'd like to visit and volunteer work she'd like to do but can't due to her teaching schedule. She thought about retiring last school year, but when things happened with the COVID-19 pandemic and schools ended up distance learning, she said she didn't want to end her teaching career at her dining room table. She also noted she has a wonderful administration and students.
"I don't know what my new normal is going to be yet, but I'm just looking forward to just having a lot of opportunities to do things that I haven't been able to do yet," Rock said.
Rock was recognized at the Tippecanoe Valley School Board meeting April 19 due to her retiring. She was also voted as the building Teacher of the Year for Mentone Elementary School.
Mentone Elementary will have an open house to celebrate Rock's retirement from 2 to 4 p.m. May 23 at Mentone Elementary.
"I'm just very honored that they are doing that and very humbled. This is a great place to work. I couldn't have spent 44 years working at place I like better," Rock said. "It's not work to me. It's what I love to do. Everyday, I love coming to this place. I love the people I work with and the children."