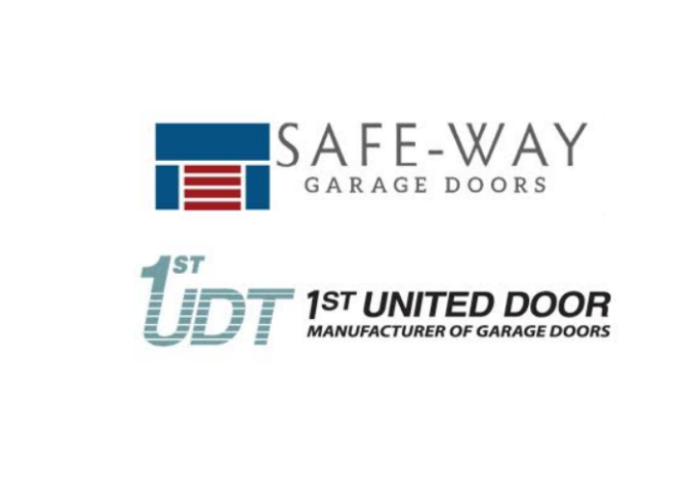 News Release
WARSAW — Safe-Way Garage Door, a portfolio company of CW Industrial Partners, announced on Thursday it has entered into an agreement to acquire all assets of 1st United Door Technologies. While details of the agreement remain confidential, the acquisition signifies a strong partnership between two regional overhead door manufacturing leaders.
The acquisition allows Safe-Way to expand its distribution network into key western markets while creating distribution opportunities for 1st United within the eastern half of the U.S. "We are excited about the combined footprint of 1st United and Safe-Way Door because it enhances our national presence and provides faster, easier access to a broader range of products for our customers," said Ted Rock, Safe-Way Garage Doors CEO.
While the combined company will be based in Warsaw, Ind., the organizations will continue to operate as they do today from their existing manufacturing and distribution centers under their respective brands. "Our customers have come to know and trust the 1st United name. We chose to partner with Safe-Way, and our customers can rest assured that all the benefits that come with the combined organization will still allow for the 1st United identity and customer-centric culture to continue, which is critical to the combined companies' future success," said John Jella, 1st United Door Technologies founder.
Rock added, "Safe-Way Garage Doors and 1st United Door Technologies are committed to sustainable business practices, with products proudly made in the U.S.A. As we embark on this new and exciting journey, our combined expertise, shared cultural values, and focus on customer satisfaction lay the foundation for a future defined by profitable growth in the overhead door industry."
Safe-Way Garage Doors is a leading manufacturer and distributor of residential, commercial, and industrial overhead garage doors, headquartered in Warsaw, with distribution centers in Murfreesboro, Tenn., and Nixa, Mo. The company has experienced continued growth over the years and expansion continued throughout the 1990s and beyond, with additional manufacturing capabilities and product line innovation.
Since 1999, 1st United Door, headquartered in Tempe, Ariz., has been serving homeowners with unique and distinctive garage doors that enhance the beauty and value of homes. With over 150 years of combined door installation and manufacturing experience, its founders and management team are known for providing value, innovation and quality products at competitive prices. For more information, visit http://firstudt.com/company.