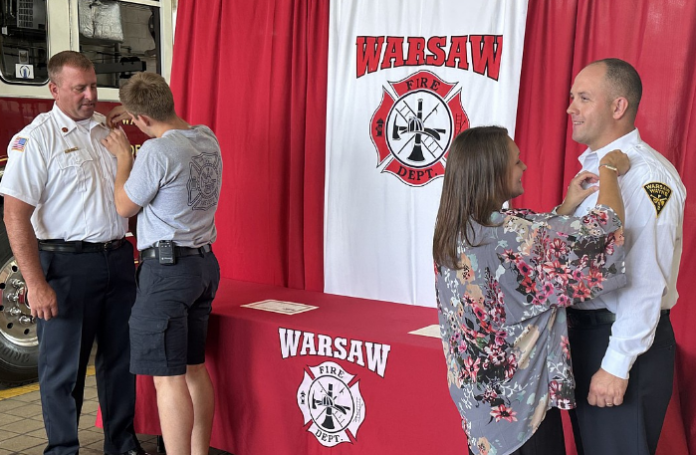 By David Slone
Times-Union
WARSAW — As the fairly new fire chief of the Warsaw-Wayne Fire Territory, Brian Mayo intends to have recognition ceremonies for his department where appropriate, including for any rank any of his firefighters acquire.
On Wednesday afternoon, the first of such ceremonies took place for Nate Iden and Shade Keeney.
Nate, formerly a captain, and Shade, previously a lieutenant, were promoted to battalion chiefs after the retirements in August of Battalion Chiefs Mike Brubaker and Brooks Huffer.
"We did the testing process some months ago in anticipation of those vacancies coming up.
So this is just the culmination of the plan we put in place coming to fruition," explained Mayo, who was sworn in as fire chief in April, in an interview before the ceremony. "They've actually been promoted officially about two to three weeks ago by the Board of Public Works and human resources, but now this is the fun, swearing-in portion of it, just to be a ceremony to recognize them."
He said they have another process they're getting ready to start, which will be Nate's and Shade's replacements for their ranks. "So there will be a captain's and lieutenant's process coming up very quickly, and when those people get promoted, we'll have another ceremony for those individuals who get promoted," Mayo said.
He said the fire territory has not done promotional ceremonies in the past. There have been swearing-in ceremonies for firefighters who come off their first probationary year with the department, which makes them a sworn firefighter.
"Since then we've never done any other promotional ceremonies, so we're going to start that tradition now – when people get promoted, we're going to recognize them," Mayo said.
There really isn't a ceremony for promotions in the fire service, and the fire service has so many traditions that Mayo said they're starting their own.
Nate has been with the fire department for about 14 years, Mayo said, and Shade for approximately 11.
"They competed against their peers and those are the ones that came out on top" for the promotions, he said. During the ceremony, Mayo said they took written exams, had oral interviews and a tactical exercise as part of that promotion process.
Their promotions also signal a shift from being single company officers, where they watched over their individual crews, to now having the responsibility for all members of the shift and ultimately the whole territory while they're on their watch, Mayo told the friends and families gathered Wednesday for the ceremony.
Mayo then gave the two men oaths of office. Shade had his badge pinned on his uniform by his wife, Ashley Keeney, while Nate had his pinned on by his son, Colyn Iden, who is a firefighter in Columbia City.
Also on hand to support Nate were his wife, Kari; parents, Butch and Diana Iden; and brother Nick Iden. Among Shade's other supporters included his sons Logan, Mason and Jack and parents.
Shade was named the 2022 Fireman of the Year in September 2022 by the county's firefighter association. Burket Fire Chief Kevin McSherry, who nominated Shade for the honor, recalled at Wednesday's ceremony that in 2004 Shade was a volunteer firefighter for the Burket Fire Department.
"He came to me after his first structure fire, and he was all dirty and sweaty, and he said, 'Chief, I love this! I think I want to do it for a living!' And I said, 'Well, we'll help you all we can.' And that was kind of the end of it. He threw himself into training and we pushed him as far as we dared push a volunteer," McSherry said.
He said Shade first worked for Mickey Scott at Syracuse as a paid firefighter before moving to Warsaw.
"He's destined for more stuff. He's a young man for being in the command already," McSherry stated.
Colyn Iden, who has been a firefighter since 2020, said he wanted to become a firefighter because of his father, Nate.
"Growing up around the firehouse, I've always been around it and just growing up, it always looked cool, so, yeah, I always wanted to become one because of him," Colyn said.
He said his dad asked him to pin his badge on at the ceremony, which was an honor.
After the ceremony, Shade said he was excited to be promoted to battalion chief.
"The skill set and talents on this department are incredible, so to be a battalion chief here is really a privilege and I'm excited," he said.
Nate said, "It feels really good. I have some big shoes to fill from Brooks Huffer, taking over his shift, so I'm just hoping to do him well and carry on his legacy with 'A' shift, and I'm excited to be working on a new shift and starting a new role and a new chapter in my life here at Warsaw-Wayne Fire Territory."
On both promotions, Mayo said, "Fantastic promotions. I'm super excited for them. They're already doing their roles. They've been doing them ever since Mike and Brooks retired, so they've already been doing this. They're now official so we need to recognize them as such. It's a good day."