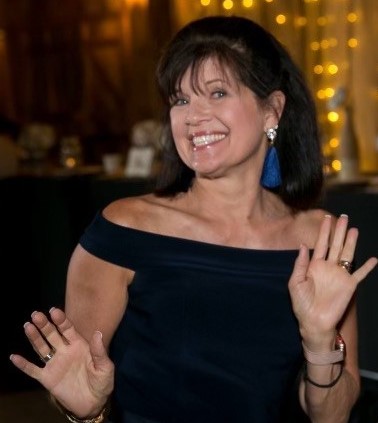 Sandra "Cindy" Katris, 64, of Warsaw, Indiana, fell asleep in the Lord and entered unto eternal life on Wednesday, July 20, 2022.
Born on October 13, 1957, in Elmhurst, Illinois, Cindy was the youngest of four children, and is survived by her siblings Paula (Robert) Polston, Joe Schmitz, and Joan (Roger) Smith, and preceded in death by her parents Frank and Virginia (Capuana) Schmitz. She was united in marriage to her love and best friend Chris Katris on July 12, 1992, in Elmhurst, Illinois.
She lived in the Chicago area for the first half of her life, until she moved to Warsaw after marrying Chris. There she devoted and shared her life with her surviving husband and their four children Krista (33), Dean (26), Stephani (24), and Jennifer (24). She was an exceptional wife, mother, sister, and friend. Nothing gave her more pleasure in life than spending time with her family and the many wonderful friends whom she cherished. All that knew her felt and received her authentic and genuine love and care. She touched the lives of so many with her giving, generous, and humble spirit – and her joyous and contagious smile always filled the space around her. Cindy was an avid supporter of the many causes and organizations she held close to her heart, including her beloved St Andrew Greek Orthodox Church (member since 1992), Baker Youth Club, or other charitable institutions within the community; she gave freely of her time, effort and love.
Cindy's love will forever live on within her husband, children, family, and friends. We will all continue to pray for Cindy and ask that she always prays for us from her new vantage point. Cindy is so loved by so many and will be greatly missed.
Rest in peace to a loving wife and mother. Αιώνια η μνήμη και καλό παράδεισο.  (May her memory be eternal and may she enjoy paradise).
The viewing will be held on Wednesday, July 27, 2022 from 1:00 pm until 8:00 pm at McHatton-Sadler Funeral Chapel, 2290 Provident Court, Warsaw, IN. A Trisagion Prayer Service will be held at 6:00 pm.
The funeral service will be held on Thursday, July 28, 2022, at 11:00 a.m. at St. Andrew Greek Orthodox Church, 52455 Ironwood Rd., South Bend, Indiana with a visitation one hour prior (starting at 10:00 a.m.) to the service. Reverend Father John Tsikalas will officiate the services. The burial will follow at 2:00 p.m. at Oakwood Cemetery, Warsaw, Indiana.
Cindy spent countless hours volunteering in her church and various charitable organizations. With this in mind, we kindly request that in lieu of flowers, memorial donations in the name of Sandra (Cindy) Katris be made to the following organizations:
St. Andrew Greek Orthodox Church – (Bookstore Renovation on the pulldown menu)
52455 Ironwood Rd., South Bend, Indiana 46635
On Line Donation – https://saintandrewgoc.org/stewardship
Or
Baker Youth Club
1401 E. Smith St., Warsaw, IN 46580
On Line Donation – https://www.bakeryouthclub.com/about-us/donate/
Or
Cleveland Clinic's Rose Ella Burkhardt Brain Tumor and Neuro-Oncology Center
Cleveland Clinic Foundation
P.O. Box 931517
Cleveland, OH 44193-1655
On Line Donation –  ccf.org/honmem. Please include the name of the deceased and area in the memo section on the check.
To Sign the Guestbook or Send a Condolence to the family please visit www.mchattonsadlerfuneralchapels.com