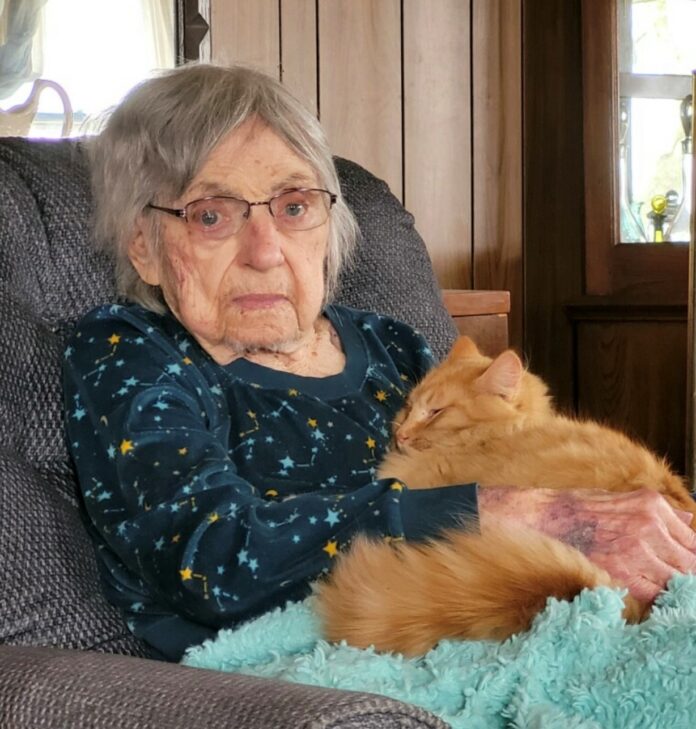 Lenora Pauline (Ringer) Gann, 95 of Argos, Indiana passed away July 18, 2022 at 3:30 a.m. at Pilgrim Manor, Plymouth, Indiana where she had been been in declining heath for the past few years.  On September 2, 1926 in Marshall County, Indiana she was born to Alfred A. Ringer & Goldie (Stickler) Ringer. Lenora  had lived all of her life in Marshall County, Indiana.
On July 22 1951 in Plymouth, Indiana she married Bernard E. Gann. They were married for nearly 58 years before Bernard's  passing on February 20, 2009.
Lenora was a Housewife/Homemaker. She was a member of the Seventh-Day Adventist Church of Plymouth, Indiana; and the Home and Hobby Club of Marshall County.
Lenora is survived by her Daughters – Mary Beth Runyan of LaPaz, Indiana; Kimberly Snyder and husband Bill of Argos, Indiana
Son – Dennis Gann of Argos, Indiana
9 Grandchildren, 18 Great-Grandchildren, & 5 Great-Great Grandchildren
Brother – Eugene "Gene" Ringer and wife Robbie of Culver, Indiana
She is preceded in Death by her: Parents; Husband; Son – Larry Gann; Great-Grandchild and a Great-Great Grandchild; and Brothers – Rollo Ringer and Lloyd Ringer
Friends may visit with the family Sunday July 24, 2022 from 2-5 p.m. at the Earl-Grossman Funeral Home, 208 N. Michigan St., Argos, Indiana.
Funeral Services will be held at 11:00 a.m. Monday July 25, 2022 at the funeral home with Elder Dave Houghton. Burial will follow at Maple Grove Cemetery, Argos, Indiana.
Arrangements have been entrusted with the Earl-Grossman Funeral Home, Argos, Indiana