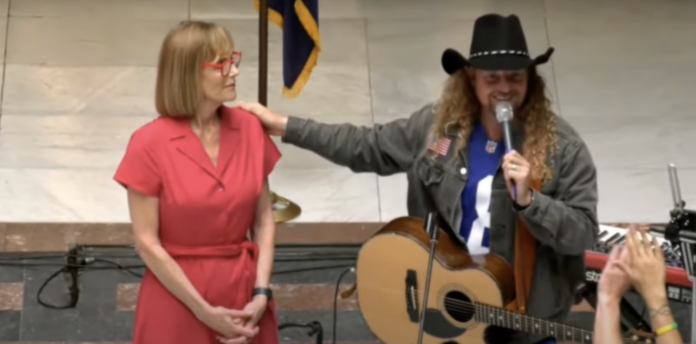 By Leslie Bonilla Muñiz

Indiana Capital Chronicle
INDIANAPOLIS — A band with ties to The Satanic Temple wants to play at Indiana's Statehouse in a bid for "religious liberty," following a conservative Christian activist's prayer rally at the site this spring.
And it's willing to sue to get in.
Musician Sean Feucht's multi-year "Let us worship" tour, which began as a protest of pandemic-era restrictions on in-person religious services, touched down in Indiana's capitol building in May. Lt. Gov. Suzanne Crouch played a key role.
Satanic Planet frontman Lucien Greaves accused the preacher-influencer — who prayed over former President Donald Trump in the Oval Office in 2019 — of pursuing a fusion of religion and governance. He argued that public spaces that accommodated Feucht should also welcome his band and its "Let us burn" counter-tour.
"Feucht is openly a theocrat who courts the attention of politicians and seeks to proselytize through his performances," Greaves said in a news release last month announcing the band's performance request. "He has his opinions, and we have ours, but one thing the government can not do is preference his viewpoint over ours by giving him exclusive access to perform a concert on the Capitol grounds."
"That stage is every bit as much ours as it is his, so, in the name of pluralism and religious liberty, there are some state capitols that are likely soon to be hosting Satanic Planet shows," Greaves — who co-founded The Satanic Temple — continued.
The Satanic Temple has pursued numerous  high-profile public campaigns it says are meant to protect secularism and individual liberties.
But Feucht repudiated the band's effort to perform in the same public spaces as his prayer rallies.
"Satan has never had creative ability," Feucht tweeted in response. "He only tries to pervert what has already been created."
"… And guess what … It's always weaker, smaller and way more pathetic than the original," he concluded.
Spat over separation of church and state
During Feucht's Statehouse event, he blessed Crouch, now a Republican gubernatorial candidate.
"She told me, you know, 'I may get in trouble for this. Who knows?' And I'm like no, you're not. You're going to be filled with favor," Feucht said.
Crouch spokesman Ron Green said the lieutenant governor "accommodated the request of event organizers to move the event indoors because of anticipated inclement weather."
The Satanic Temple Congregation Head Riley Phoebus began asking the state in mid-May how to book time in the capitol building, according to emails obtained by The Capital Chronicle. The organization submitted a request for an August 12 performance.
Administrative back-and-forth
The agency in charge, the Indiana Department of Administration, denied the request, according to the emails. IDOA didn't immediately respond to a request for comment.
"Unfortunately, the type of event you are requesting is not permitted in the Statehouse. We allow ceremonies and speaking presentation type events," IDOA Director Tracy L. Jones wrote in one email. Jones also cited a use policy for the building.
That document says that music — "by electronic transmittal or by performing artists" — is allowed during a "private event reservation." But, it adds, the agency "expect(s) the historical nature of the building to be honored." That means dancing and "'party" entertainment aren't allowed.
It also says that the building and grounds "shall not be used for any unlawful purpose … or support for an ideological or political methodology being offered to the general public." And it gives preference to events sponsored by elected officials and agencies.
Greaves said his team asked the agency on June 12 to categorize the event as it saw fit, saying that the band wanted to perform "on whatever terms Sean Feucht was allowed to play." Greaves said he hadn't heard back.
A lawyer for the group sent a letter Wednesday evening — shared with the Capital Chronicle — demanding that the state approve the usage request.
"The lack of response is unacceptable to my clients," Matt Kezhaya of Minnesota-based Crown Law wrote. He requested a reply by July 21. Otherwise, he wrote, a lawsuit would be next.
Satanic Planet is fundraising for its planned tour, but has said that if its performance requests were denied, that the funds would go toward legal challenges.
* * *
The Indiana Capital Chronicle is an independent, nonprofit news organization dedicated to giving Hoosiers a comprehensive look inside state government, policy and elections. The site combines daily coverage with in-depth scrutiny, political awareness and insightful commentary.
You can read the original version of the story here.