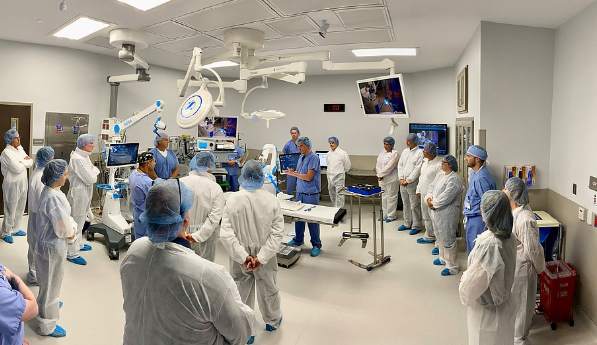 News Release
WARSAW — U.S. Sen. Todd Young visited Warsaw to sit down with local leaders to discuss the city's sustainable future.
The event was hosted at Zimmer Biomet headquarters, where the senator and other local government officials met with Zimmer Biomet Chairman, President and CEO Bryan Hanson to tour various parts of the manufacturing facility and the recently opened Zimmer Biomet Omni Suite at the Lutheran Orthopedic Surgery Center, before closing the day with a roundtable discussion downtown, according to a news release from Zimmer Biomet.
The key takeaway in Young's words: "There are 49 other states that would be envious of a community like Warsaw. Medical technologies are advancing at a rapid pace, and the jobs being created and services being provided in Northern Indiana are impressive."
Spending time learning more about Zimmer Biomet was just one aspect of the senator's visit. The broader goal included highlighting the partnership local leaders have to equip and implement projects and programs to elevate the quality of life for everyone in the community, the release states. The roundtable discussion focused on how leaders are investing in ways to drive diversification in different industry sectors and sustainable job creation, while building off the orthopedic foundation.
OrthoWorx, a nonprofit organization founded in 2009 and largely funded by the Lilly Endowment Inc., helped coordinate the visit, which happened on July 25.
During his nearly five hours on the ground in Warsaw, Young was provided with an upfront and personal lens into the changes underway to advance the orthopedic industry.
"At OrthoWorx, we consider our first priority to be in support of our industry, education and community partners from a talent perspective," explained Bob Vitoux, Orthoworx president and CEO. "This includes attracting, developing and retaining the talent needed currently and into the future. We believe hosting roundtable discussions, such as what occurred during Senator Young's visit, are a vital part of us fulfilling the role we are expected to play. It was a true honor and a privilege to have someone of his stature, responsibility, and influence devote the time and energy he did by making this visit to the Orthopedic Capital of the World."
Zimmer Biomet Recon President Jim Lancaster explained how Hanson has encouraged ZB's leadership team to work on local engagement.
"Our future includes engagement in the local community – we take pride in educating the local community on ZB and our mission to giving back," he said. "This is about defining what we want the future of this community to be for our children, and their children, and beyond. We are taking a stewardship mindset in making sure we have solidified the foundation that giants like Rerva DePuy, J.O. Zimmer and Dane Miller did for all of us."
State Rep. Craig Snow (R.-Warsaw) was also pleased with the event.
"We're seeing change all around us that can help people in ways we've never imagined," he said. "Maintaining close relationships with our industry partners like Zimmer Biomet helps ensure our momentum continues well into the future. Warsaw is the Orthopedics Capital of the World, and simply put, we want to keep it that way."
Young closed out his visit saying, "I visited Zimmer Biomet to discuss the state of med tech and the exciting future ahead in Warsaw. Medical technology is advancing at a rapid pace, and the jobs being created and services being provided in Northern Indiana are impressive."
Included in the day were Young, Warsaw Mayor Joe Thallemer, Hanson, Snow, Vitoux, Lancaster, Zimmer Biomet Warsaw Operations Vice President Shawn Fergison, Warsaw Councilman Jeff Grose, Grace College President Dr. Drew Flamm, Ignite Orthopedics President and CEO Brian Hodorek and KEDCO CEO Alan Tio.