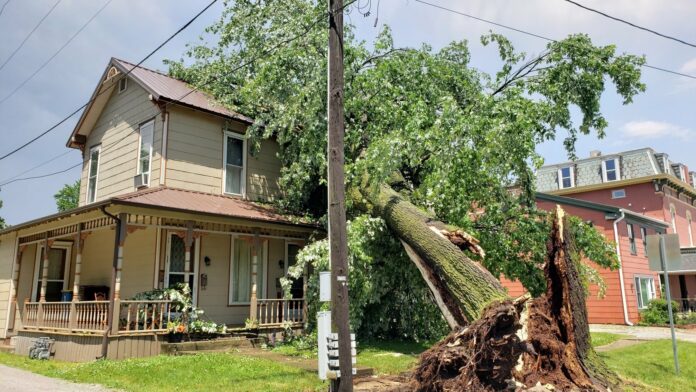 Severe thunderstorms caused widespread damage on Wednesday afternoon, especially in Wabash, Whitley and Noble Counties.
North Manchester, hit by 80-90 MPH winds, had numerous trees with branches or limbs snap, blocking roads throughout the town. Some trees uprooted and fell onto houses. There were also several instances of tree limbs falling onto cars.
Damage moved up through Whitley County, where more tree and power line damage was reported in Columbia City. The storms also knocked out traffic lights on US 30 from Larwill to Columbia City, causing traffic delays. Churubusco, like other towns, also had widespread tree damage throughout the town.
The wind damage continued into Noble County, with central and eastern areas of the county getting hit the hardest with more tree and power line damage. Several reports came out that trees were down along parts of US 33, blocking traffic from getting through on the two-lane highway.
In LaGrange County, a video showed a semi-truck getting blown over along US 20 as a gust came through. Another video by an NBC News photographer showed blinding rains blowing across the Indiana Toll Road, forcing semis and cars to seek refuge under an overpass.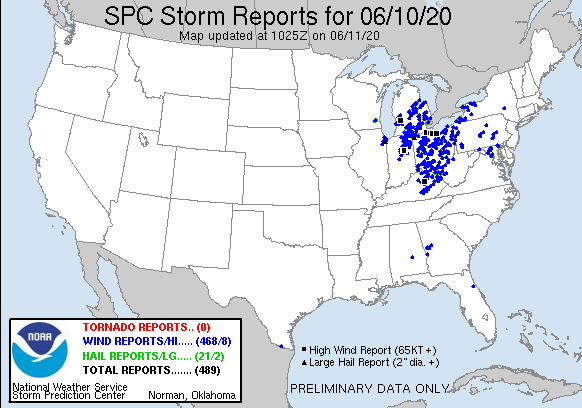 The storms came through between 1 and 3 PM, firing along a line that went from Elkhart to Indianapolis and moved north. Wind gusts were reported to be between 60 and 90 MPH in the storms according to the National Weather Service. Overall, throughout Indiana, Michigan and Ohio, over 400 storm reports regarding severe winds were reported.