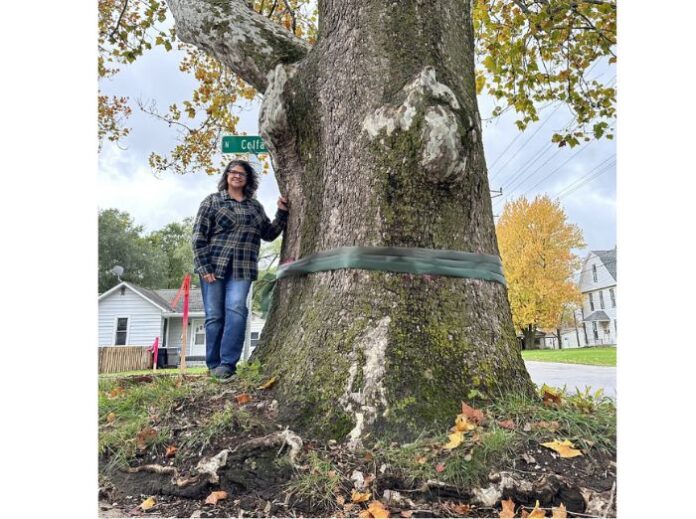 By David Slone
Times-Union
WARSAW — At the intersection of Sheridan and Colfax streets in Warsaw is a Sycamore tree estimated to be at least 275 years old.
It's slated to come down as part of the city of Warsaw's Lincoln Neighborhood Sidewalk Project, but Gita Kamdar, 1702 E. Sheridan St., is making an effort to save the tree.
She knows the approximate age of the tree because Phend & Brown Inc., measured the diameter of the tree to be 69 inches and, based on their calculations, estimated the age of the tree to be 275.
Kamdar has lived in her home with the tree in the front yard for the past 20 years.
"Our realtor told us it was the oldest tree in Kosciusko County when we bought the house, but she did not know any other details, other than students from Lincoln Elementary — back in the day — used to come here for a little field trip to see how many kids hand-in-hand it took to go around the tree," Kamdar said Friday.
The sidewalk project started about five years ago when the city received an 80/20 federal grant of $1.1 million for it through the Indiana Department of Transportation in 2018, with the project slated to be constructed in 2022, according to past Times-Union articles.
However, bid issues delayed the start of the project, including bids were well over what INDOT and the city had allotted for the project, and it went out to bid for a third time in January 2023.
A June 6, 2023, article states the total cost of the project is $3,276,784, with the federal aid providing $2,620,810.80 of the cost and the local match to be $665,973.20.
The sidewalks are within the area bordered by Sheridan, Scott, Colfax and Main streets and total over 2 miles.
"I did not know anything about the sidewalk project or the tree coming down. They had spoken to my now-ex-husband prior to our divorce, and he shared with them that he would be more than happy to have the tree come down," Kamdar explained.
When she found out on Monday, Oct. 16, about the plan, she reached out to City Planner Justin Taylor who told her he had talked to her ex-husband about it four years ago.
"I just expressed to him my concern over the tree because it's healthy, it's thriving, it is a beautiful, beautiful tree. And, the age of the tree, at the time I just said it's over 100 years old, I knew that much. He said he really felt the same way about the tree and he was surprised that my ex-husband was so willing to get rid of it. And they have told me more than once that they wish I had been the one that answered the phone on that day because this would be a completely different story," she said.
Kamdar understands that the city can't make any promises about saving the tree, but they're looking at potential alternative ways to work around the tree.
She said the tree has withstood over 200 years of life, so if they need to cut a couple roots that wouldn't matter. While there's been an occasional small dead limb, Kamdar said she really hasn't had any problems with the Sycamore.
"Sycamore trees are considered a dirty tree just because the Sycamore balls put out a lot of pollen and a lot of dropping them, but that's what God intended a tree to do. It sheds every few years, the bark of the tree," she said.
A month doesn't go by where somebody stops while Kamdar is working out in the yard and they ask her about the tree. They often will ask her if they can take their picture in front of the tree.
"It is such an iconic part of Kosciusko County that – progress is progress. I understand that sidewalks need to happen. I understand that for the safety of our kids going to and from school. But there has to be a point where cement can't win when you're dealing with an over-200-year-old tree," she said, adding that she feels that Taylor and Phend & Brown, the project contractor, are committed to try to find a way to work around the tree and do something that honors the tree and its history in the county.
She said Phend & Brown has been "so kind" with her concerns, and they have delayed the removal of the Sycamore while attempts are made to see if there's a workaround.
"At the end of the day if it has to come down, at least we've exhausted all of our resources on doing what we can to save the tree," Kamdar said.
She understands a federal grant is paying for the sidewalk project and that grant comes with guidelines that have to be followed.
"And I do want to enter this whole thing with grace and respect to the situation that they're in, but if there is any way for them to work around this tree, I am so confident that they will do that and that gives me hope," she stated.
Taylor said they don't want to go in and damage the root system of the tree and then later have the tree decline to where it has to be cut down anyway at the additional expense of the taxpayers.
"As part of this project, it could be removed, but if we go back in later, it would be out of the scope of the project, so there's a number of considerations," he said. "As part of the federal project, there's a lot of connectivity – ADA ramps that we have to keep in mind as well. So, that's why there's a conflict there because we have to connect north-south across Sheridan."
\He said they talked to one of the property owners years ago about the tree and there didn't seem to be any issue there then.
"We were trying to get ahead of this years ago. As a city, it's not our intention to catch anybody off guard or surprise anybody about something like this. Even though it is in the right-of-way, we want to be sensitive to the homeowners," Taylor said.
He said they're doing everything they can now to look at and save the tree as everybody on the project would love to be able to save the tree, but they're being realistic as well as there could be complications with how that sidewalks goes in.
Taylor, who guessed the tree was more than 275 years old, said the removal of the tree has been delayed a little bit so they can "wrap our heads around how the design might be modified at this point to accommodate the tree."
He reminded the public that the intention of the sidewalk project is to provide safe routes for children to get to school.
"So we've got an elementary school there. We've got very vulnerable populations. The schools are encouraging kids to walk to school, so we want to keep that in mind … We definitely want to make sure that everybody keeps in mind that this whole project was for the intention of benefitting the school kids and making sure they have a safe way of getting to and from school," Taylor said.
A tree will be replanted for about each tree taken down as part of the sidewalk project, though he acknowledged you can't replace a 275-year-old tree.