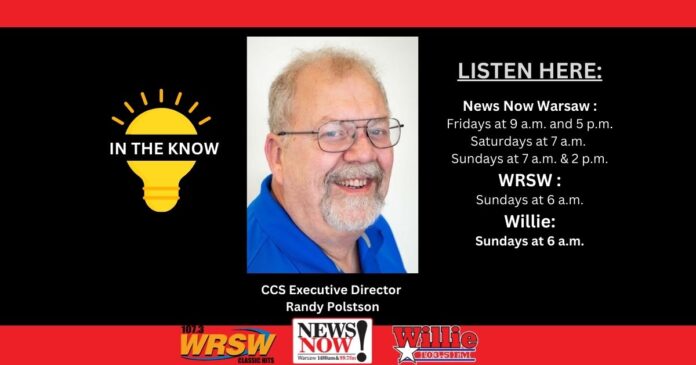 By Dan Spalding
News Now Warsaw
WARSAW — Staff at Combined Community Services is always busy, but they're moving into overdrive as the holiday season approaches.
In this week's News Now Warsaw's public affairs show, In The Know, CCS Executive Director Randy Poston discusses several upcoming programs including the two-day Food-A-Thon, which returns on Nov. 10 and 11 at the CCS headquarters on Mariners Drive in Warsaw.
The food drive is a key part of CCS's success in assisting families during the holidays who are struggling with food insecurity, Polston said.
The program relies on individual donations, but also has the support of sponsorships and corporate involvement, Polston said.
You can learn more about the program at the CCS website.
Polston also recapped three other longstanding programs, including the county-wide coat drive headed up by Kerlin Motors, which is underway at four locations (including Kensington Media offices at 116 W. Market St., Warsaw) and continues until Oct. 27
CCS is also preparing for other Holiday-related services including the 30th Annual Adopt A Family program (sign up begins Nov. 1) and the 30th annual Toy Time, which returns on Dec. 11.
Check out this weekend's In the Know for more details or visit the CCS website to learn more.