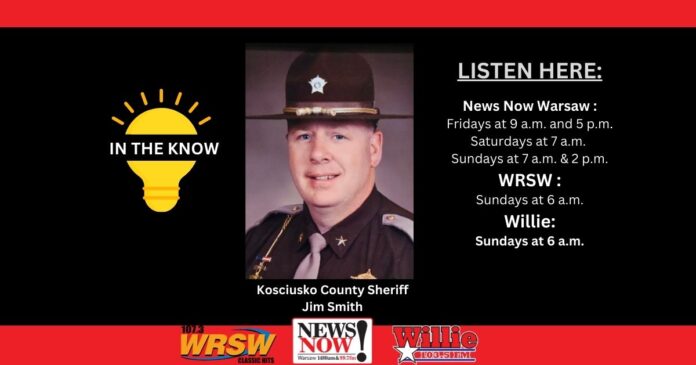 By Dan Spalding
News Now Warsaw
WARSAW — Jim Smith admits he used to be old school when it came to incarceration, but that was before the Kosciusko County Sheriff embraced a new program and made 300 tablets available to inmates.
The tablets have replaced much of the paperwork involving inmates in the jail as well as the traditional form of visitation, which fell by the wayside when the pandemic struck. 
The tablets have also replaced he traditional form of mail which had been one of the biggest paths into the jail for contraband.
Smith and the jail staff, who oversee about 275 inmates have seen a rapid change since the tablets were distributed three weeks ago.
The devices, to a great degree, are now keeping inmates more occupied.
Jail staff say they noticed a quick improvement in behavior after the arrival.
"Based on my observations and the communications I've had with the jail staff, it's obvious that things have changed back there. It's a lot more quiet," Smith said.
The tablet program is an arrangement through Securus and is being financed without public tax dollars.
The program also offers hundreds of books with a variety of subjects ranging from religion to substance abuse education. Access to some of those features include a fee, he said.
The program also allows all inmates an online visitation once a week with a loved one free off charge — a significant change from the past when inmates had to pay fees.
Additional fees still come with a fee.
Smith said he had not realized the burden indigent inmates had faced previously and sought to make a change with the new arrangement.
He said he's optimistic that the impact will continue.
"The novelty, it may for some, run run out a little bit, but one thing's not going to change — they all like that contact with the outside world, whether it be messaging or visits," Smith said.
Inmates who are expected to bond out quickly and those with behavioral issues are not provided with tablets.
Smith and two of his top lieutenants — Chief Deputy Chris McKeand and Public Information Officer Doug light — discussed the tablet program and other issues as part of this week's In The Know, the public affairs show which can be heard Friday, Saturday and Sunday on 107.3 as well as Willie 103.6.
Other subjects touched on during the interview included Smith's first year in office and the recent decision to hire four additional dispatchers.