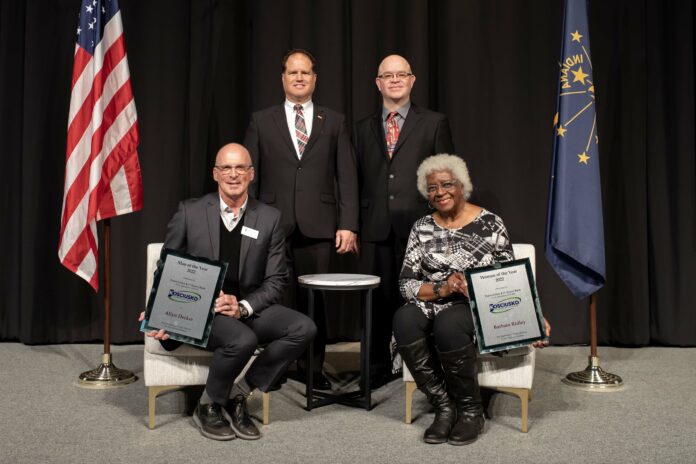 News Release
WINONA LAKE — On Thursday evening, the Kosciusko Chamber of Commerce held its 111 th Annual Chamber Awards Dinner at Grace College's Manahan Orthopaedic Capital Center in Winona Lake.
Kosciusko County business professionals, along with local and state elected officials were in attendance as several local businesses and individuals were honored.
The highly anticipated Man and Woman of the Year Awards, co-sponsored by 1st Source Bank and Times-Union, highlighted the evening.
(Scroll down to see photos of all the winners)
The 2022 Woman of the Year is Barbara Ridley.
David Slone of Times Union presented the Woman of the Year Award saying that "our Woman of the Year has been a very active and committed member of our community for many years. She is a true servant leader and lives her life very intentionally."
The 2022 Man of the Year is Allyn Decker, Director of Community Engagement at Ivy Tech Community College.
Doug Hanes of 1st Source Bank stated "our Man of the Year has worked tirelessly on behalf of everyone on Kosciusko County for over 30 years. He amazes those around him with his grasp of the real issues facing companies in our community and the ways in which other organizations can help meet those needs."
The evening's keynote speaker was Indiana Secretary of Commerce, Bradley Chambers. Chambers was interviewed by Lake City Bank President & Chief Executive Officer, David Findlay.
Following the keynote presentation, Parker recognized Lake City Bank for celebrating their 150th anniversary and being one of the founders of the Kosciusko Chamber of Commerce. Parker presented Lake City Bank with a plaque honoring their 150 years of service to the community.
The LaunchPad Family Friendly Business award, which recognizes a business that provides innovative and creative solutions to support their employees' family and/or childcare needs was presented to Tippecanoe Valley School Corporation (TVSC).
Kosciusko Home Care and Hospice was this year's award sponsor, and it was presented by Glenn Hall. Hall spoke about how TVSC opened an infant-toddler program at Milford Elementary School for children of their employees. This new program has provided an impactful solution to their employees' childcare needs.
Honorable Mention for the LaunchPad Family Friendly Business Award was given to Da-Lite and Zimmer Biomet.
The Main Street Impact Award, sponsored by PNC Bank and presented by Corinna Ladd, was awarded to ONE TEN Craft Meatery. Ladd stated that, "ONE TEN has played a vital role in making downtown Warsaw a more vibrant and inviting place to be."
Honorable Mention for the Main Street Impact Award was given to Town of Milford and Urban Retrend.
The Making a Difference Award was sponsored by K21 Health Foundation and presented by Rich Haddad. The award was given to KCV Cycling Club for improving the community through events, bicycle safety education, and the local trails. Haddad said, "KCV has succeeded in making a difference in our community in many ways."
Honorable Mention for the Making a Difference award was given to Akzo Nobel and Rural King.
The Rising Star award is given to Kosciusko County's highest-performing new company. This year, the award, sponsored by Horizon Bank and presented by Mitch Goon, was awarded to DreamOn Studios. Goon said, "their brand-new studio is over 4,000 square feet of meticulously crafted audio-visual production space. The space is designed to pull off high end multi camera shows or podcasts that can be recorded or broadcast around the world with the push of a button."
Honorable Mention for the Rising Star Award was given to Ledgeview Brewing Company and Legacy Family Chiropractic.
The Community Development Award, honoring a business that has shown an outstanding contribution to community development in Kosciusko County was sponsored by Old National Bank and presented by Sandra Parra. This year's recipient was Kosciusko Connect. Parra said, "since December 2021, they have connected nearly 5,000 customers, and they continue to expand their services. The future looks very bright for Kosciusko Connect."
Honorable Mention for the Community Development Award was given to the 802 Center Apartments and Warsaw Parks Department.
This year's Business of the Year Award was sponsored by Lake City Bank. Chris Wiggins presented the award to Silveus Insurance Group. Wiggins said, "over the past 83 years, Silveus Insurance Group has had a monumental impact on our community. Their leadership and staff have served on numerous influential boards, and in 2022, the company and its employees financially supported 44 unique charities."
Honorable Mention for the Business of the Year Award was given to Medartis and Paragon
Medical.
Lauren Klusman, the Chamber's Director of Marketing and Communications presented the Ambassador of the Year Award to Shawn Brown, Publisher of Lake City Living. Brown attended 86 Chamber-related events and referred multiple new Chamber members in 2022.
The Kosciusko Young Adult Professional of the Year Award was sponsored by Crossroads Bank and presented by John Warren. YAP is a group of business professionals under the age of 40 who are active in the community. This year's recipient was Heather Lardino with 1st Source Bank.
Matt Linville presented the Government Excellence Award, sponsored by Zimmer Biomet, to Kosciusko County Council Member, Sue Ann Mitchell. Linville said, "she is a wise steward of Kosciusko County knowledge, and no one has more government insight than she does."
Lake City Bank was honored for celebrating its 150th anniversary and for being one of the founders of the Kosciusko Chamber of Commerce.
Chris Scheeren was the opening speaker for the event and dinner was prepared byKelly Jae's Lakeside.
The major sponsors for the event included Lake City Bank, 1 st Source Bank, Blue River Digital, Core Mechanical Services, DreamOn Studios, Grace College and Seminary, Lutheran Kosciusko Hospital, Maple Leaf Farms, Robinson Construction, Silveus Insurance
Group, SYM Financial Services, Warsaw Buick GMC Chrysler, and Wildman.
All photos below were provided by the Kosciusko Chamber of Commerce.