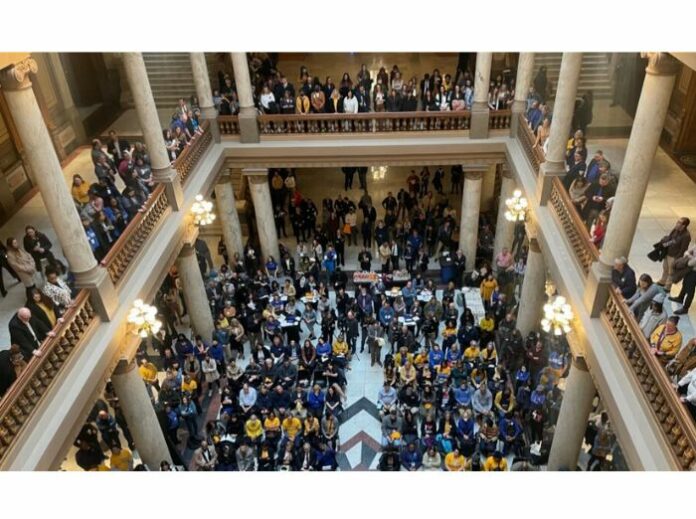 By Whitney Downard
Indiana Capital Chronicle
INDIANAPOLIS — Health care workers from across the state gathered at the Statehouse Thursday to push the General Assembly on public health funding – an request that has repeatedly given legislators pause.
The Governor's Public Health Commission, spurred by the role local public health departments played in the COVID-19 pandemic, sought to analyze the state's shortfall and find funding solutions. After receiving lawmaker pushback, they revised their initial ask down from nearly $250 million to a phased-in approach granting $125 million in the first year followed by the full amount in 2025.
Nationally, the average per capita state spending on public health is $91 but Indiana spends just $55 – putting it 45th in the nation for funding.
Gov. Eric Holcomb, who called for the commission, said the public health funding recommendation didn't even strive to be a leader and only asked to get Indiana to the "middle of the pack."
"We don't want to be a national laggard; we don't want to linger for any more time," Holcomb said. "Very rarely do I shoot for the middle of the pack but we've got to start somewhere."
What funding means for local public health departments
Mindy Waldron, the administrator of the Allen County Department of Health, said Indiana's low public health rankings were directly tied to its near-bottom state funding. Waldron, and hundreds of others, rallied Thursday to call for more state investment during Public Health Day.
Departments, like hers rely heavily on local funding — half of which she said came from the county and the remainder came from various government grants and community foundations.
"Counties being very disparate around the state — relying on tax money that only funds a portion of their budget – you do the urgent things and you really don't get to the chronic, preventative things that could be a game changer," Waldron said.
Having a dedicated funding source from the state government would allow departments to go beyond their duties required by statute, which includes inspecting restaurants, permitting tattoo and body piercing shops or utilizing contact tracing to fight local outbreaks of communicable diseases.
"You should be able to eat at a restaurant in one county and go to the adjacent county (with) the same type of restaurant and the rules should have been enforced," Waldron said. "Likewise, you should see some of these basic public health programs like maternal or child health at the local level. They don't because there (aren't) resources funding them."
The commission, of which Waldron was a member, found that public health spending varied widely from county to county – from $83 per capita in Marion County to $1.25 in Shelby County.
Even though Fort Wayne is the second-biggest city in the state, Waldron said her county fell closer to the middle – spending just over $10 per capita.
"We should be at least top five with the population we have," Waldron said. "(But) when you're reliant on tax money, particularly property taxes, it comes and goes."
With more reliable funding, she said initiatives like decreasing lead poisoning could have continued steadily, rather than starting in the 70s and restarting again in the last five years. Instead, as attention left, so did the money that funded programs investigating and testing for lead.
"We need consistent funding to do consistent good," Waldron said. "We are so far below average at this point that it'll take us a while to gain tread and start to make a difference in areas like maternal and child health."
Poor Hoosier health impacts economic development
Holcomb described the state's poor health as a workforce development issue, noting that a healthier workforce costs less than an unhealthy one on both a micro and macro level.
"When I'm sitting down, talking with folks who are interested in investing in the state of Indiana, counties are competing against each other. CEOs want to know who values the health of their workforces," Holcomb said. "If you don't have the human capital… they'll look somewhere else."
State Health Commissioner Dr. Kris Box said part of the effort would be educating everyday Hoosiers about public health and its importance.
"It's not just masks and it's not just about one pandemic," Box said. "(It's) moving the needle on the percentage of people smoking, moving the needle on the overall infant mortality rate."
* * *
The Indiana Capital Chronicle is an independent, nonprofit news organization dedicated to giving Hoosiers a comprehensive look inside state government, policy and elections. The site combines daily coverage with in-depth scrutiny, political awareness and insightful commentary.
You can read the original version of the story here.