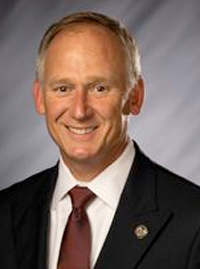 Craig Snow defeated fellow Republican Curt Nisly in a race between two incumbents for the redrawn House District 22 seat in the Indiana General Assembly.
In Kosciusko County, Snow captured 6,516 votes (73%) compared to Nisly who received 2,375 votes (27%). Complete results including Wabash County were not immediately available, but the size of victory in Kosciusko County assures Snow of the Republican nomination.
Snow said he did not have a good guage of how well he would do Tuesday.
"I never dreamed it would be over 70%," Snow said Tuesday night in a phone call.
Snow's victory now sets the stage for a challenge in November from Democrat Dee Moore, of Wabash.
It was a stunning loss for Nisly, the four-term firebrand conservative who had won easily in all of his previous contests spanning the past year years.
With redistricting, District 22 now encompasses all of Kosciusko County except two townships in the northeast corner of the county.
Probably a key factor for Snow in the new map is that it added Warsaw and Winona Lake.
Snow said he thinks the addition of Warsaw and Winona Lake  – where he has lived much of his life – into District 22 proved to be a factor.
Snow, 53, is a graduate of Grace College and works as the Board chair of Silveus Insurance Group and CEO of Cedar Holdings Inc.
"I'm happy with the new district," Snow said. "I'm very grateful for the opportunity to serve what I would say is my home."
As fate would have it, Snow and his wife, Sherri, moved from a home in Warsaw to a new residence in Winona Lake less than six weeks ago.
Nisly angered Republican leadership and was a leading critic among conservatives upset with how Gov. Eric Holcomb handled the pandemic shutdown.
Nisly was outspoken about abortion and gun rights but was unable to move any legislation through the General Assembly because leadership would not work with him.
Nisly often talked about how he served constituents rather than bowing to the whims of leaders in Indianapolis.
He could not be reached for comment Tuesday night.
Moore, who has run previously as a state lawmaker, was unopposed in Tuesday's primary.