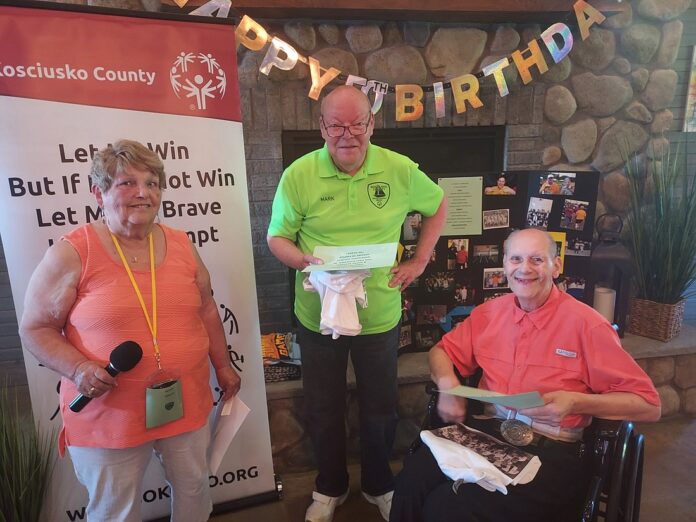 LEESBURG – At the Special Olympics 50th birthday celebration at Tippy Creek Winery on Thursday, several people were recognized for their involvement in the sports organization.
Special Olympics is a nonprofit that uses sport, health, education and leadership programs to end discrimination against and empower people with intellectual disabilities to lead active, healthy and fulfilling lives, according to information provided by the Special Olympics.
Becky Walls, county coordinator, said Mark Warren and Tim Hunt have been involved with Special Olympics "since day one." They were honored with a T-shirt and a congratulatory certificate.
Hunt, an honorary firefighter with the Warsaw-Wayne Fire Territory, said he's done bowling and basketball during the Special Olympics. He plans on participating in bean bags in the future.
He said he likes being part of Special Olympics because he can bowl. He has also made friends during his time.
He thinks Special Olympics is important, but couldn't describe in words why it's important.
Warren declined to be interviewed.
Barb Michalos was recognized as the new regional director. She has been in the position for about a month. She always wanted to work for Special Olympics and the opportunity came up and she was called to fill the position. She wants to continue supporting the county so if they need something, she can possibly make it easier for them.
In her position, she manages 28 counties. She said the organization is 99.6% volunteer, who are the boots on the ground. Volunteers have many different roles, such as coaches, time keepers and doing fundraising, participating in whatever capacity their talents bring.
Right now, everyone is getting ready for the Eunice Kennedy Shriver games and bowling is ramping up. Softball sectionals is happening, she said.
Before becoming regional direct, Michalos had been involved in Special Olympics for 50 years as a volunteer. Michalos has a brother who is an athlete.
Michalos said Special Olympics enhances people through sports. Athletes compete, do their best and persevere in an activity they love. She added it's a wonderful organization.
Walls herself has been county coordinator since 1999, with other family members being involved in Special Olympics as well. Her mother was the first county coordinator, she said.
Athlete Crystal Redman said she was part of a bowling team that went to the state contest in Terre Haute this year. She and partner Sabrina Turner got gold medals at the event.
Redman said they are all athletes and they are all perfect in their own little way.
Walls said Thursday's event was just to celebrate the Special Olympics being around for 50 years and she hopes people can enjoy celebrating the milestone.
Dinner for Thursday's event was provided by Twisted Tiki Food Truck. Fifty-four people reserved seats at tables and that didn't include anyone else that walked into the celebration, she said.
Entertainment was provided by DJ Big Dawg Variety Show.
The 50th birthday celebration for Special Olympics Kosciusko County will help support local sports programs for athletes along with the work of the families, coaches and volunteers, according to information provided by the Special Olympics.