WINONA LAKE – Special Olympics Kosciusko County hosted a basketball tournament at the Grace College Gordon Student Recreation Center Saturday.
Kosciusko County had two teams in the tournament competing against athletes from Fulton and Howard counties.
In the tip-off games, the Kosciusko County Panthers beat the Howard County Kats 29 – 19.  Fulton County Dream Team bested the Kosciusko County Jaguars 50 – 29.
In the championship game, the Kosciusko County Panthers in a close game beat the Fulton County Dream Team 39 – 33. In the consolation game, the Howard County Kats defeated the Kosciusko County Jaguars 22 – 16.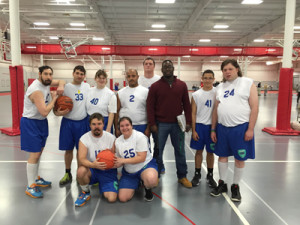 Becky Walls, Special Olympics county coordinator, thanked the Howard and Fulton county teams for traveling to play in the tournament and to all the volunteers and fans who helped make this event a success, according to a release from the organization. She also expressed appreciation to Grace College for allowing Special Olympics to use the Gordon Recreation Center and Scott Moore for onsite assistance.
The Kosciusko County Panthers, Jaguars and Skills participants will be competing next at the "Take It to the Hoops" tournament at Taylor University in Upland Feb. 6.
(Story By The Times Union)