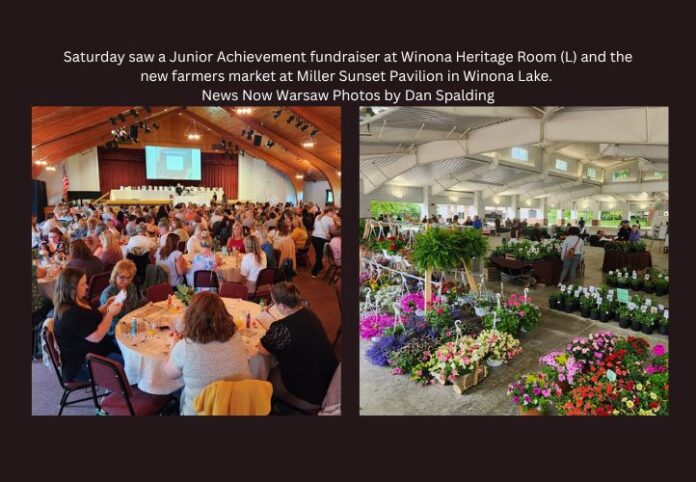 By Dan Spalding
News Now Warsaw
WINONA LAKE — A long stretch of Park Avenue in Winona Lake was bustling with people and traffic Saturday morning.
While there were no major festivals happening, most parking lots were close to capacity, and a handful of activities combined to boost foot traffic.
The new farmers market entered its second week inside the expansive open-air facility known as Miller Sunset Pavilion. 
Traffic was steady at the market and organizers said they picked up a handful of new vendors for Saturday and that more than a dozen others called to learn more about how to get involved.
Two blocks away, Junior Achievement hosted its sixth annual designer purse bingo at the Winona Heritage Room.
An estimated 300 people attended Saturday morning's event.
Courtney Whetstone, development director for Junior Achievement of Kosciusko and Marshall counties, said they've previously relied on outdoor tents at other locations.
The group hosted a Cash bingo event at the Heritage Room on Friday night before Saturday's event, which included three food trucks outside the hall and another food vendor inside.
Whetstone said she thinks they've found a new home for the annual event.
"We are loving it. We just love the community being in the heart of Warsaw-Winona Lake. The staff has been amazing. The venue's been amazing. It's great to be inside and not to have to worry about humidity and the rain," Whetstone said.
A few blocks away at Port Winona Wine and Market, in the Village at Winona, visitors had a chance to partake in brisket and beer.
The business saw steady foot traffic into the afternoon.
Alexis Vonosdal, the owner of Port Winona, said they decided to make the brisket and beer event a twice-annual event after they had a strong turnout last year.
She said she's made an effort to provide more outdoor seating at the business since acquiring the business about two years ago.
She said they've grown to appreciate lots of visitors and business throughout the summer.
"You can't go wrong with the Village. There's always something going on between Fat and Skinny, the art fair and Canal Days," Vonosdal said.
Activities in The Village at Winona will pick up again next weekend when Fat and Skinny Tire Fest for three days of activities.
While the bike festival will have events in both Warsaw and Winona Lake, festival organizers are using Miller Sunset Pavilion as its hub.