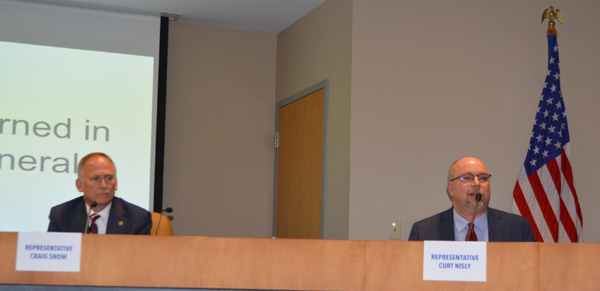 Until Indiana's political boundaries were redistricted in 2021 based on the 2020 U.S. Census figures, State Rep. Craig Snow represented District 18 and Rep. Curt Nisly represented District 22.
Now, the two men are facing off in the May 3 Republican primary for the District 22 Indiana House seat.
Wednesday evening, the public had the opportunity to hear what both had to say on a variety of topics over eight questions during the first night of the 2022 candidate forum. Each candidate was allowed up to 2 minutes for each question.
The first asked, "What legislation have you authored and has been signed into law that you are most proud of?"
Snow said this year, he was able to get signed into law a bill that had to do with school corporations being allowed to have daycare centers within their premises.
"The reason I'm proud of that one is it has to do with workforce development in a big way. One of our employers up north came down and testified on the bill. Basically, what they were arguing was, they needed to be able to have their employees allow their children to come to the daycare. The reason they couldn't is because there is some red tape, if you will, with a FSSA rule basically shutting them down after the ninth day. So, every other Friday they had to close the daycare. This bill basically eliminated that red tape," Snow said, and exempts school corporations from licensure.
As Kosciusko County is in a childcare "desert," school corporations can now get involved in offering childcare. Snow said the bill goes into effect July 1.
In his response, Nisly said the bill he is most proud of was constitutional carry. He said he has authored and offered constitutional carry bills and amendments several times over the last five to six years.
"For it to be like the very first thing that the House moved through, at the beginning of session this year, it kind of stalled out in the Senate but it came back on the very last day of session this year. And, so, I've been a big proponent for Second Amendment rights, the right to bear arms," he said.
The bill, that eliminates the license requirement to carry a handgun in Indiana, was signed into law by Gov. Eric Holcomb on March 21.
Asked what they have learned in their time at the General Assembly, Nisly said, "It's amazing what you can accomplish if you don't care who gets the credit. I have learned how to get things done in the House of Representatives, in the General Assembly. Sometimes using unconventional means, but still getting the stuff done."
Snow said one of the biggest things he's learned is that the wheels of government move very slow, but building relationships is key.
Asked what their top three priorities were that they want to accomplish during the next legislative session, Snow said he would like to work on the business personal property tax and some other tax issues that the legislature talked about this session but didn't get accomplished. He'd like to work on the Next Level Indiana grant having to do with private equity money. If Roe v. Wade gets overturned by the U.S. Supreme Court this summer, he'd like to address abortion in a special session, but if not, then he'd like to see the state address that issue next session.
Nisly said with 2023 being a budget year, and with the big surplus of money that the state has, it will be a good time to start cutting taxes. Secondly, he said he would like to "end the practice of abortion in Indiana" and the state doesn't need to wait on the Supreme Court to do that. Finally, he would like to "restore the balance of power" between the legislative and executive branches of government.
"We learned in March of 2020 that there was this emergency powers in the Indiana code that all the governor had to do was sign a document and he gets dictator powers here in Indiana," Nisly said, referring to the COVID-19 pandemic. He said that was wrong and he hoped the state legislature would remove the emergency powers of the governor if he declares a state of emergency.
A later question asked the men about their thoughts specifically on abortion and they both agreed they wanted to end it in Indiana.
The two-year state budget will be figured in the 2023 legislative session. The candidates were asked how involved would they be in the process and what actions have they taken to be prepared for that session.
Nisly admitted he hasn't spent a lot of time thinking about the budget, other than it's time to cut taxes. He said he's been a state representative for four budget cycles and it's been "very interesting." He said he was the only Republican to vote opposite of the Democrats every time and he was proud of that.
Snow said he was hopeful he would be involved in the process "pretty intimately" by getting on the Ways and Means Committee. While he's not on the Committee now, he said he's gone to all the Committee meetings during the last two sessions to learn about how they go about the budget process.
"The other thing I've been working on with Sen. (Ryan) Mishler is, he invited me to go along last summer with the budget committee around the state, and so I went with him to many of those budget committee meetings," Snow said, which allowed him to learn many new things about the process.
Holcomb signed a $1.1 billion tax cut package, which could reduce Indiana's income tax rate down to 2.9% over seven years. Snow and Nisly were asked how they thought the tax cut package will help Indiana as a whole and does it go far enough.
Snow said the tax cut is a help and won't hurt the state and it was the right thing to do for Indiana's constituents. He said it doesn't go far enough, however, and there's a lot more things the state could and should be doing, but it doesn't happen over night.
Nisly said the income tax cut is "very, very good" but doesn't go far enough. "I hope we can continue to lower it and lower it until we can get to zero," he stated.
After both candidates talked about what skills and abilities do they have that makes them the best candidate, the last question asked them what did the pandemic teach them and how should Indiana prepare for future outbreaks.
Nisly said the biggest takeaway was government's response was far worse than the pandemic.
In part of his response, Snow said Holcomb overreached with his rules and didn't ask the legislature for any feedback.
He also said, "The other thing I learned, and I hope we never repeat this, is we incentivize bad behavior by paying people to stay home. And that was ridiculous. And you think about what's going on today with our workforce, trying to get people back to work, it's just a terrible time for small business owners. With inflation happening and not being able to pay enough money for employees to come back, it's been a train wreck. So, the biggest lesson I've learned is,  I hope the governor learned, is we will not pay people to stay home every again."
Wednesday's candidate forum was the first one of two, with the second scheduled for 5 p.m. April 27 at City Hall. Seating is limited but the forum also is being livestreamed on the city of Warsaw's website and Kosciusko Chamber of Commerce's website, as well as aired on News Now Warsaw 1480AM and 99.7FM. The April 27 forum will feature candidates for recorder, County Council and sheriff. The forum was organized by the Kosciusko Chamber of Commerce, Kensington Media, the Times-Union and InkFree News