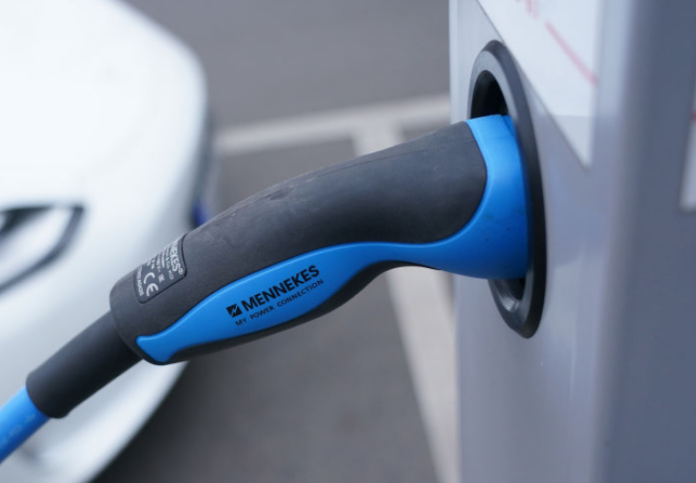 By Casey Smith
Indiana Capital Chronicle
INDIANAPOLIS — A new statewide dashboard sheds light on what types of cars Hoosiers are driving — and the increasing popularity of electric and hybrid vehicles.
The Indiana Vehicle Fuel Dashboard released last week visualizes information about the types of vehicle fuels in the state, as well as data trends over time.
The new interactive tool allows users to filter by county, fuel type, and type of vehicle. State officials said the dashboard is designed to shed light on alternative fueling trends in transportation throughout the state.
"The fuels Hoosiers are choosing for their transportation needs are diversifying," said Ryan Hadley, executive director for the Indiana Office of Energy Development (OED), in a statement. "The Indiana Vehicle Fuel Dashboard puts the data directly in the hands of citizens and businesses to see how vehicle adoption trends has and will continue to change."
Data in the dashboard range from January 2018 to present and comes from Indiana Bureau of Motor Vehicle (BMV) registration data and is refreshed weekly.
The first-of-its-kind dashboard was developed through a multi-agency partnership between the OED, BMV, and Indiana Management Performance Hub (MPH), with additional help from the Indiana Department of Transportation (INDOT) and Indiana Utility Regulatory Commission (IURC).
"The BMV has heard from a number of Hoosiers that they want to see this type of data and we are glad to work with key partners to provide the information," said Indiana BMV commissioner Joe Hoage. "The dashboard creates an insightful view of vehicles registered in Indiana. The efficiency it provides will serve many looking to utilize this data both in and outside of Indiana."
More Hoosiers opting for electric, hybrid vehicles
By far, Indiana roads are dominated by gas vehicles, according to state data.
Of the roughly 6.5 million vehicles registered through the BMV last year, 80% were solely gas-powered, and close to 10% were "flexible," or flex-fuel vehicles that can run on either traditional gasoline or E85 — a gasoline blend with ethanol concentration up to 85%.
About 4% of registered vehicles were categorized as diesel fuel types.
Electric-gas hybrid vehicles accounted for 1.68% of all registered in Indiana, and just .25% were fully electric. That's equal to nearly 125,000 hybrid and fully electric vehicles, combined.
But although a minority of registered vehicles, alternative fuel types have been gaining popularity in the Hoosier state since 2018.
Electric and gas hybrids accounted for 1.1% of all registered vehicles in 2018, equal to 72,576 vehicles. That same year, there were 3,441 fully electric vehicles, making up .05% of all those registered.
The 2022 numbers reflect a 64% increase in the number of alternative fuel vehicles registered in Indiana since 2018. The new state dashboard indicates that even more electric and hybrid vehicles are being registered in 2023.
Marion County has recorded the most electric and hybrid vehicles registered over the last five years, totaling close to 91,000.
Nearly 60,000 such such vehicles were registered in Hamilton County, while 34,500 were registered in Allen County, and 31,500 in Lake County. St. Joseph, Monroe, Tippecanoe Hendricks, Porter, Elkhart, Johnson, Vanderburgh and Boone counties all had more than 10,000 electric and hybrid vehicles registered, too.
Indiana's ongoing electric vehicle transition
Multiple, yearslong initiatives in Indiana seek to increase the number of electric and hybrid vehicles on Hoosier roads and reduce overall carbon emissions.
INDOT's in-progress carbon reduction strategy includes strategies to increase fuel efficiency and electric vehicles, in addition to investing in public transit, bicycle and pedestrian facilities.
A key part of the draft plan — which is boosted by federal dollars and must be finalized by November — is its investment in electric vehicle charging stations. The state plans to build charging stations along all interstates and U.S. Highway 31, with construction expected to begin in 2024.
During the 2023 legislative session, state lawmakers further commissioned a new task force that will analyze buying trends and impacts of increased electric vehicle adoption. The task force will also likely consider new strategies for taxing alternative fuels.
Vehicles that use alternative fuels pay less — or none at all — in gas taxes, which fund transportation infrastructure improvements. Instead, owners pay higher registration fees, but the price is based on assumptions of how many miles those vehicles will drive and how efficiently they'll do it.
Some lawmakers and state officials say that model is cause for concern, maintaining that — as the number of electric and hybrid vehicles increases — more needs to be done to ensure that roadways can be properly funded and maintained.
* * *
The Indiana Capital Chronicle is an independent, nonprofit news organization dedicated to giving Hoosiers a comprehensive look inside state government, policy and elections. The site combines daily coverage with in-depth scrutiny, political awareness and insightful commentary.
You can read the original version of the story here.