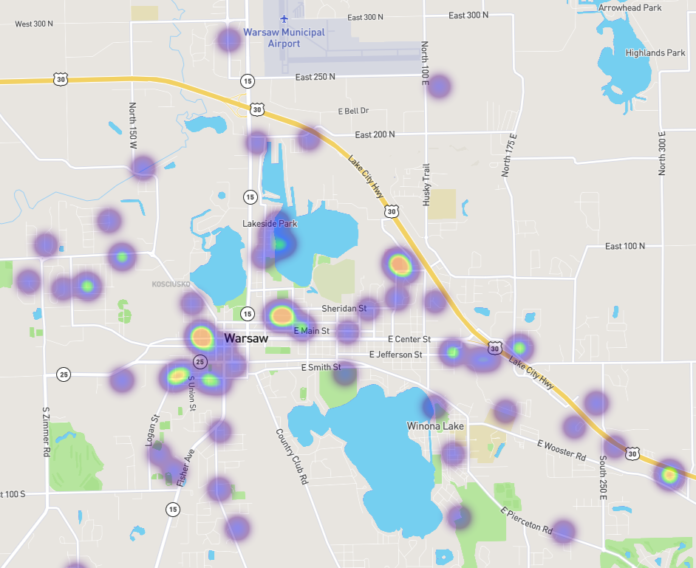 By Dan Spalding
News Now Warsaw
WARSAW — An online tool made available through the Indiana Department of Health is shedding light on how often Narcan is being used to fight the opioid epidemic.
Narcan, also known as Naloxone, is the drug used to resuscitate people in the midst of an opioid overdose, which often involves fentanyl.
The state health department's online heat map can be filtered to look at specific time ranges and can zoom in and show where Narcan was used at a neighborhood level.
An up-close look at Warsaw shows numerous hot spots.
The map is not perfect. Locations are not exact.
The state estimates that about 15 percent of instances where Narcan is used are not recorded because of insufficient or missing information.
The map also does not always show where the overdose occurred. For instance, hospitals often use the medicine after a user has arrived from another location.
Warsaw-Wayne Fire Territory serves as a distribution hub for Narcan to emergency responders in Kosciusko County.
Chris Fancil, the EMS chief for the fire territory, says the map is an eye-opener.
"It tells us we have a huge problem and that we need to find ways to do better," Fancil said. "We have a lot of work to do."
Last year, the fire territory distributed nearly 300 doses throughout parts of the county.
In 2020, the fire territory alone used Narcan 25 times. That climbed to 35 in 2021 and 40 in 2022.
Fancil was asked where the battle against opioids is headed.
"I think it's getting worse. We're just trying to bring as many resources to bear as we possibly can. Some of that is public education, some of it's more Narcan out in the community, some of it's trying to limit the number of opiates being prescribed," Fancil said.
"I think we're all doing what we can to mitigate this, but it's going to take some time."
Kosciusko County saw a record number of overdose deaths in 2022.
According to the county coroner's office, 18 people died in the county from overdoses last year. Another 12 or 13 from the county died after being taken to a hospital outside of the county.
The fire territory is currently seeking 300 more doses from the state health department.
The medicine is provided free of charge to local entities.