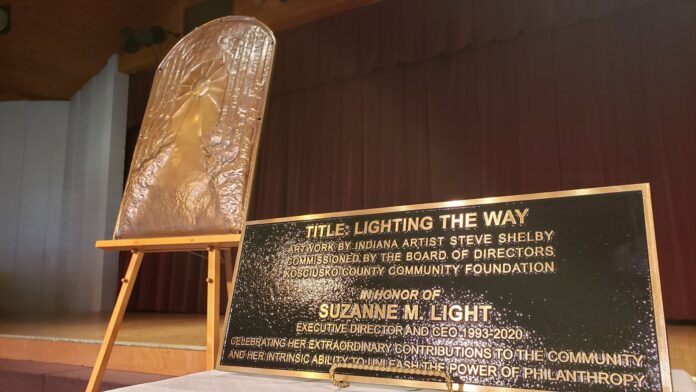 Recently retired Executive Director and CEO of the Kosciusko County Community Foundation Suzie Light was honored at a retirement party Tuesday evening.
She was recognized for her nearly 27 years of service with the unveiling of a bronze plaque that will be on public display at the Foundation building, along with a broach of the same art that will be displayed.
Light took over as Executive Director in January of 1995, 18 months after joining as the Assistant Director. Under Suzie's leadership, the Community Foundation's assets grew from $400,000 to over $60 Million. The Community Foundation now awards more than $3 Million in grants annually, which is almost eight times greater than the total asset size of the Foundation when she started.
Following her official retirement earlier this year, two funds were announced in Suzie's name, including the Suzie Light Visual and Performing Arts Fund and the Suzie Light Nonprofit Leadership Excellence Fund. You can find more information about those at kcfoundation.org/donate.