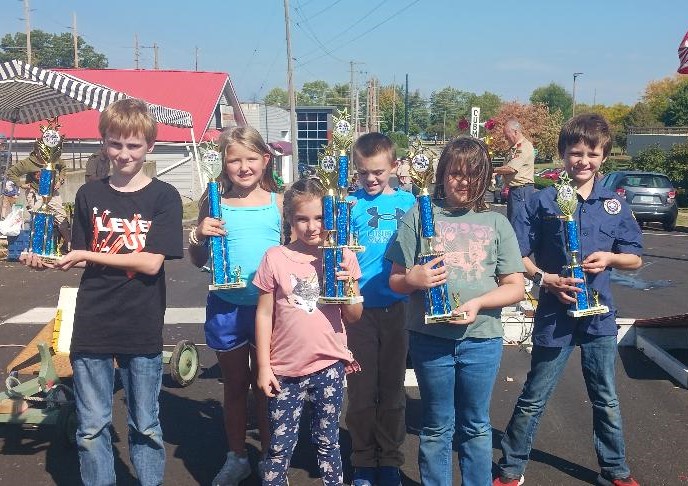 News Release
SYRACUSE — Syracuse Cub Scout Pack #3828 competed in the Cubmobile Races on Saturday in Warsaw.
The Syracuse pack competed against 75 racers from nine other Cub Scout packs from the Lincolnway District of the Anthony Wayne Council of Scouts of America.
Several racers from the Syracuse pack brought home trophies.
The first-place trophy in the heavyweight division went to Hazel Ratty. Capturing first place in the welterweight division was Eva Aites followed by Zander Monroe in second place. Evan Scott won second place in the featherweight division with Trent Ritter placing third. Second place in the bantamweight division went to Kenlyn Sims. Noah Wells placed second in the middleweight division.
Similar to a soap box derby car, a cubmobile is a gravity-powered wooden race car built by the Cub Scouts with a rider that steers the unit.
Any boy or girl in grades kindergarten through fifth grade interested in joining Cub Scouts are invited to the Scout Woods residence at 10433 East CR 500N, 6 p.m. every Monday.
For more information about scouting, contact Cub Master Trevor Ritter at 574-377-6177 or visit the Syracuse Cub Scout Pack 3828's Facebook page.