A Syracuse man was sentenced to nine years in prison Thursday for a case from 2018 when he was hit with drugs and weapons charges.
Gil Fabian Rodriguez, 27, of 10773 N. CR 450E, Syracuse, appeared before Kosciusko Circuit Court Judge Mike Reed Thursday and was sentenced to six years in the Indiana Department of Corrections for a Level 3 felony possession of cocaine conviction; and six years in the IDOC for a Level 6 criminal recklessness conviction. Those sentences will run concurrently, meaning at the same time. Rodriguez was then sentenced to one year each in prison for a Level 6 felony dealing marijuana conviction, Level 6 felony domestic battery conviction and a Level 5 felony possession of methamphetamine conviction.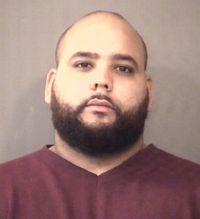 Rodriguez will serve 4-1/2 years in IDOC and received 4-1/2 years of the nine year sentence suspended to formal probation. While he is incarcerated, Reed referred him to the Recovery While Incarcerated (RWI) program, which, upon successful completion, could have the judge revisit the sentencing.
Rodriguez was originally charged with 11 crimes, but through the plea agreement struck with prosecutors, he received a lesser sentence.
The case stems from an incident on June 7, 2018, when sheriff deputies responded to a domestic battery call where shots had been fired.
Rodriguez had left the scene in a Chevrolet Monte Carlo by the time police had arrived, but police were able to locate the vehicle and conduct a traffic stop.
Rodriguez was a passenger in the vehicle and police located 2-1/2 pounds of marijuana, 5 grams of methamphetamine, 29 grams of cocaine and a loaded handgun.
The victim of the crime suffered injuries to her arms, had bite marks on her left bicep and swelling and bruising on her head, according to court papers. The woman told police that after Rodriguez battered her in front of two children, Rodriguez grabbed a gun and shot at the woman's vehicle while the children were still present.
Rodriguez at the time was already on probation in a domestic battery case where he had battered the same woman, according to court records.
In court Thursday, Rodriguez's public defender, John Barrett, said his client has been out of jail since he was arrested three years ago and hasn't violated the law. However, he said Rodriguez understood there's punishment for his actions and asked the judge to refer him to the RWI program.
"It's been a long three years," Rodriguez told Reed. "I accept what I've done and take responsibility … and I'm sorry to the court and to the victim."
"You were out on probation for a domestic battery case with the same woman, and what do you do? Go back to the victim's house with a weapon," Reed said. "You're going to prison for your criminal conduct."