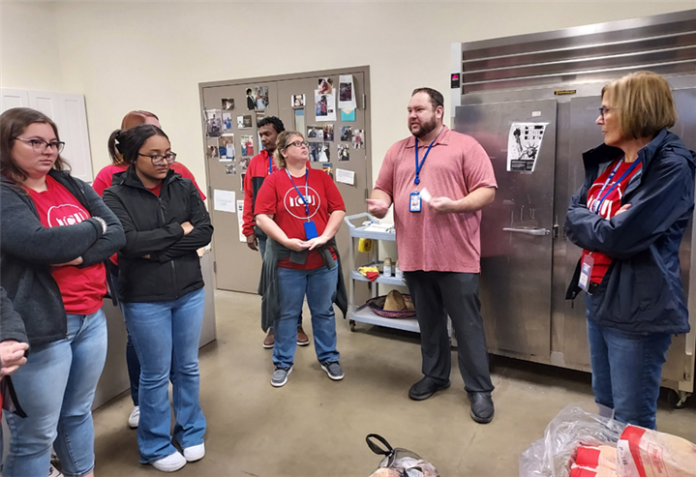 About 14 employees from Teachers Credit Union's two Warsaw locations spent four hours Monday volunteering at Combined Community Services, 195 Mariners Drive, Warsaw, during TCU's Day of Giving event.
TCU previously hosted its Day of Giving single-day, corporatewide days of service in 2018 and 2019. This is the TCU's first year back to hosting this event after the pandemic, according to a news release from TCU. Nearly 700 TCU employees were to give back at more than 45 different nonprofit locations.
In support of this day, TCU's 50-plus banking branches, corporate and auxiliary offices were closed to serve others in a wide variety of community projects, schools and charitable organizations.
Karen Myer, manager of the two Warsaw locations, said TCU employees would help CCS in whatever they needed, whether it be with its food or clothing banks or other areas of CCS.
She said, hopefully, employees can enjoy helping the community. She hopes it will help CCS "guests." Previously, the Warsaw TCU helped Habitat for Humanity.  Employees had Monday off and the Day of Giving was optional. The Day of Giving allows TCU employees to help the community in different ways.
At the beginning of the Day of Giving event, Tim Frame, director of emergency assistance at Combined Community Services, gave TCU employees a tour of CCS' food and clothing pantries, as well as an introduction of what CCS does.
He said CCS has the largest food pantry in Kosciusko County, serving about 600 families a month on the food pantry alone. For the clothing pantry, the clothes are through donations and are completely free for people. CCS has free legal services for people who need it and a utilities assistance program that help people who have received a shut-off notice on their utilities.
Frame said CCS has been the recipient of a Day of Giving event before and knows this is at least the second time TCU has joined CCS for theirs. TCU reaches out to CCS and tells them about opportunities they have for give back days. CCS is happy to have TCU employees come into CCS and help community members.
The "coolest" part of events like Monday's for CCS is organizations like TCU and CCS guests come together and address the needs CCS sees in the community, he said.
With the pandemic and inflation, CCS is seeing an increase in need. In the last three months, Frame said CCS has seen the need for its services rise more than during the COVID-19 pandemic. He thinks it's due to multiple issues. He said the 600 families CCS is serving over the last three months is a record number.
To donate or volunteer, people can go to ccsgives.com. CCS does take nonperishable food items. People can drop it off at CCS.