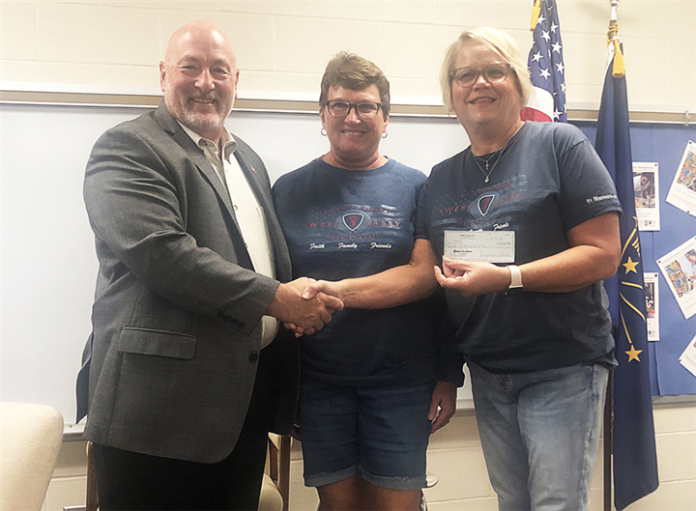 MENTONE – A check for $26,000 presented to the Tippecanoe Valley School Board Monday for Bib's Billfold will help students, teachers and staff.
The money was raised from The 2022 Scott Bibler Sweet Sassy Golf Classic.
Stephanie Bibler, wife of the late Scott Bibler, told the Board the golf outing went very well. Scott was a 1982 Tippecanoe Valley graduate and a teacher, counselor and coach at the high school.
"We had the biggest flight of teams we've ever had – 32 in the morning, 32 in the afternoon. So, we were jam packed – 64 teams. We also probably had 65 to 70 spot hole sponsors, which, we have no words for, right? Every year we think we can't get bigger and we just seem to do it," she said.
This year, the donation from the proceeds of the golf outing to Valley is bigger, she said, because of a couple of factors. Prices did go up on everything for them, but the golf outing didn't raise its prices.
"Of course, we lost Scott's brother this year and the Class of '86 made a donation to us, along with some of the memorials from his funeral went … into their donation spot, too. And then, Scott's class celebrated 40 years of being out of high school and they also pulled together and did a donation for us. So we had a couple of those nice extras in there that more than made up for our cost increase and kind of went over. So we're pleased to be able to give you $26,000 tonight," Stephanie said.
The proceeds are to be used for a student needs fund at each Valley school to meet any type of student need; a teacher grant fund for grants to all teachers, coaches and staff within Tippecanoe Valley School Corporation; and a teacher/staff recognition fund to allow buildings to provide meals for staff members during parent-teacher conferences and celebration/recognition meals, according to information provided by TVSC.
Stephanie said they try to keep $2,500 at each of the Tippecanoe Valley school buildings, but they did a "great job" of depleting their funds, "which is what we want them to do."
With the $26,000 donation, those funds will be built back up: $2,500 at the two elementaries, middle school and high school; and $1,500 at Burket Educational Center.
"So the grants will be about $16,000, I think this year, is what we came up with," she said.
The golf outing is on the last Saturday of August every year.
Another donation was for $1,000 and came from Allowing Christ to Shine (ACTS) to Mentone Elementary School.
The donation from the local nonprofit organization was to the school's book fair to help disadvantaged students purchase books.
"We appreciate all their help with that donation," Superintendent Blaine Conley said.
The Board later approved both donations.
Conley also recognized the Tippecanoe Valley School Corporation for receiving the Riley Corporation status for 2021-22. Last year, $1 per student was raised in all of Valley's four schools for Riley Hospital for Children. Several students from Valley have received medical attention from Riley over the years "and we are happy to receive this recognition for all of our efforts," he said.
He said Dillon Prater, who was a 2012 graduate of Tippecanoe Valley High School, died (Saturday). Prater had several surgeries down at Riley during his life "and I know he touched many lives and we will always continue to help support Riley for those causes," Conley said.
Tippecanoe Valley High School Spanish teacher Nataly Lopez was chosen to be a member of the Teacher Leaders Bootcamp and Valley received a $4,000 grant from the Indiana Department of Education for her to participate.
"This will help her with professional development. She's continuing to improve her instructional skills through the IDOE in teaching Spanish for our students," Conley said.
The School Board approved the grant.
They also approved $38 in apples from Creation Celebration for Cathy Olson's class. Students were to learn the versatility of uses of the local crop of applies and use the apples in cooking class over two weeks, according to information provided.
In other business, the School Board:
• Approved the employability report card for Tippecanoe Valley High School as presented by Principal Brandon Kresca.
• Approved the testing security policy for the current school year.
• Approved the school board policy on the new student discipline rules.
• Heard from Kresca that a senior trip to Washington, D.C., is being planned tentatively for April 27 to May 1. Cost for each student will be $1,200 to $1,500, depending on the number of students who take part. More details from the teachers sponsoring the trip will be provided to the board at the November meeting.
• Heard details of the master calendars for the next two school years. Conley said they are similar to what Valley has had the past two years. There will be three days off for Thanksgiving, 10 days for teachers and 11 days for students at Christmas, spring break is always the first full week of April and Good Friday also will be observed. If there's no snow days, Tippecanoe Valley will be out by Memorial Day.
"These are initial considerations. They'll go up on the website so people can take a look at them and we'll get feedback over the next month  and bring it back to you for your approval," Conley told the Board.
• Heard and approved all the school improvement plans from the school principals.
• Approved the capital projects fund and the CPF resolution; the school bus replacement plan and its resolution; and the budget. Public hearings on all of the items were held Sept. 19.