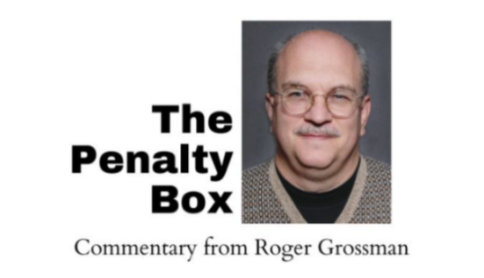 By Roger Grossman
News Now Warsaw
I was watching baseball last week, and the Phillies were playing in the game I came across. 
I watched Kyle Schwarber bat, and while he was hitting, I was reminiscing about a time when he wore a uniform with a different color of pinstripes and a different letter on his helmet. 
It started me thinking about those dark days of 2020 and 2021 when the Cubs unloaded the heart and soul of their World Series championship team of 2016 for kids none of us had ever heard of before. 
But as I watched Schwarber strike out with a mighty swing, I got to thinking about how those guys are doing now. How have things worked out for them in their new cities with their new teams? 
So, I did some digging. 
The aforementioned Schwarber had a terrific season last year. He hit 46 home runs, drove in 94 and helped the Phillies to the World Series. He only batted .218, but it didn't matter because he sent a ball over the wall once every 14.5 plate appearances. 
This year, he's on pace to top 40 homers again, but he's batting under .190 and he's made some embarrassingly bad plays in left field. 
Anthony Rizzo was traded to the Yankees just before the trade deadline in 2021. 
Since being moved to the Bronx, Rizzo is batting about .250 with only 51 home runs in over 1,100 plate appearances. Just before the all-star break, he went on a stretch of one hit in 34 at bats. 
His partner in "Bryzzo", Kris Bryant, was traded to the Giants a day after Rizzo went the other direction. 
Bryant didn't help the Giants much, so they let him leave to sign a big contract with Colorado. But that hasn't worked out at all. 
Yep, the story for Bryant has been injuries. 
KB has only played in 100 games in the last two seasons as of the all-star break with a very unimpressive 11 home runs and 33 RBIs…at Coors Field! He batted .306 last season, but only played in 42 games—that's about 25 percent of the season. 
Javy Baez was escorted out of New York almost as quickly as he was welcomed in there. 
He signed a big deal with the Tigers before 2022 and has been, well, "Javy" of his last few seasons with the Cubs. Lackluster, forgetting how many outs there are, swinging wildly at pitches he had no chance of hitting. 
Since joining the Tigers, he's batting about .230 with less than 25 homers and just over 100 runs batted in. 
Willson Contreras was the last of our beloved to leave Chicago. 
His exit came with doubt from Cubs front office brass that he would ever be a good enough defensive catcher to justify paying him big money. 
The Cardinals did, and he was so far below their expectations that they benched him as the everyday catcher for a while. Then they realized they didn't have anyone else that was better, and their season was deteriorating anyway, so they went back to him. 
Now, in fairness to Contreras, he replaced Yadi Molina in St. Louis, and replicating his impact on a game behind the plate would be pretty close to impossible. 
See the trend? 
The only player who has gotten better in their new home is Jason Heyward. "Ja-Hey" had an average of .205 combined for the Cubs in 2021 and 2022 and only hit nine home runs. But at the all-star break, he already had 8 this season, was batting about .250 and was continuing to be a valuable defensive outfielder even into his upper 30s. 
They love him out in Chavez Ravine for all the reasons that we Cubs fans did, and he's producing at the plate for them, too. 
Consider all of those young kids whom the Cubs picked up in those trades are growing and getting better and developing into something, and we can only look back on the decision to end that era and start a new one and say it was exactly the right thing to do. 
Why? How?
The truth, in my view, is this: those young Cubs players who worked so hard and shot up the minor league ranks to the majors to play for the Cubs and help them end the 108-year championship drought lost their drive. They settled for what had been, and they didn't work nearly hard enough to get better. 
And none of them, except maybe for Heyward with the Dodgers, will ever be in a position to win another championship. Their glory days are behind them, and when that happens it is rare to get them back. 
The lessons we can learn from this all are these: never rest on your yesterday or you lose your today and tomorrow; enjoy the great moments because they don't last forever; and be slow to attack those who make personnel decisions because there is a really good chance they know more about it than you do. 
* * * 
Roger Grossman has been covering local sports in Kosciusko County for more than 30 years and is employed with News Now Warsaw. You can reach him at  rgrossman@kensington.media.