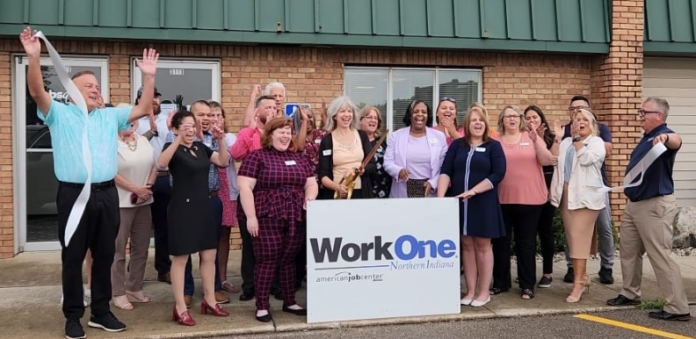 By Dan Spalding
News Now Warsaw
WARSAW — WorkOne, a state agency that helps people find employment, celebrated it's new office location in Warsaw on Wednesday.
The service center moved from the location it shared with Goodwill Industries to a full office on E. Center St., behind the Bob Evans restaurant.
As a result, they've gone from having a few cubicles to having enough space for its five staffers, says Krystal Levi, president and CEO of the Northern Indiana Workforce Board.
In addition to more space, Levi said she thinks the new location is easier to find.
She said they've seen an uptick in traffic since occupying the new office late last month.
The move comes as the agency is working to assist some 500 employees from LSC Communications as well as about 200 who were let go from Polywood in Syracuse
Levi says the low jobless rate across Indiana is a misnomer and that many workers are still in the process of fully recovering from the pandemic.
Representatives of the Kosciusko Chamber of Commerce celebrated the occasion with a ribbon cutting Wednesday afternoon.
To learn more about WorkOne does by visiting its website, gotoworkone.com.