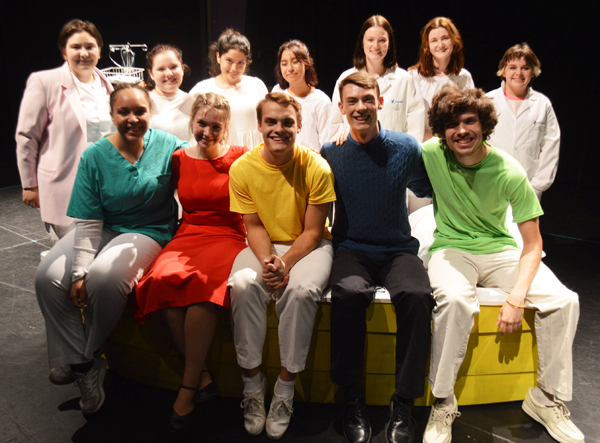 Every year, the Warsaw Community High School Select Theatre class does a play benefitting a charity.
This year, the play is "The Yellow Boat" by David Saar and all proceeds will go to Mad Anthony's Children's Hope House in Fort Wayne.
Performances are at 7:30 p.m. Oct. 15 and 16 in the Black Box Theatre in the Performing Arts Center at WCHS. Tickets are $10 for adults and $8 for seniors 65 and older.
On the play, Director and WCHS drama teacher Melany Morris said, "It is a story about a family and their young boy who is born with hemophilia and through his process with the doctor he contracts AIDS. And it's kind of the story of the family dealing with this unspeakable tragedy, and we see how strong the family is, how strong the boy is and the things that they go through with the doctors and reactions from the public and the families."
The play is based on a true story. The playwright, David Saar, wrote it about his and his wife Sonja's son Benjamin, who was born with congenital hemophilia.
A Scandinavian folksong tells of three little boats: "One was blue, one was red and one was yellow as the sun. They sailed far out to sea. The blue one returned to the harbor. The red one sailed home, too. But the yellow boat sailed up to the sun." Benjamin always concluded his bedtime ritual by saying, "Mom, you can be the red boat or the blue boat, but I am the yellow boat," according to the website dramaticpublishing.com.
Mad Anthony's Children's Hope House takes care of children in similar situations to the character in "The Yellow Boat" and supports families of those children, Morris said. The students in Select Theatre choose the charity.
According to the Hope House's website at https://childrenshopefw.org/, "Mad Anthonys Children's Hope House is saving families from around northeast Indiana and beyond considerable time, energy and dollars in travel and overnight lodging while their children undergo lifesaving treatments at area hospitals. Mad Anthonys Children's Hope House offers families who would sleep in cars and hospital lobbies a safe haven at a donation of $10 per day, although no family will be turned away for the inability to pay."
The mission of Mad Anthonys Children's Hope House is to offer temporary, minimal-cost lodging to parents and families of children receiving medical care away from home; to provide families with a place of comfort, hope and emotional support; to serve families regardless of race, gender, religious or political affiliation; and never turn away any family due to inability to pay, the website states.
Mad Anthony's Children's Hope House is dedicated to providing families with children in any community hospital with overnight accommodations in a family-centered, home-like, supportive environment. With Houses on the Lutheran, Dupont and St. Joseph Hospital campuses, they are able to keep families close to their hospitalized loved one.
For the WCHS production, Davin Broadhurst plays Benjamin, Natalie Oler plays Mom, Edward Robison plays Dad and Cayla Harris is Joy.
The cast also includes David Howard, Regan Polk, Isabella Silva, Elena Crawford, Alyssa Pena, Trislynn Lind, Jessica Pogue and Josie Miller.