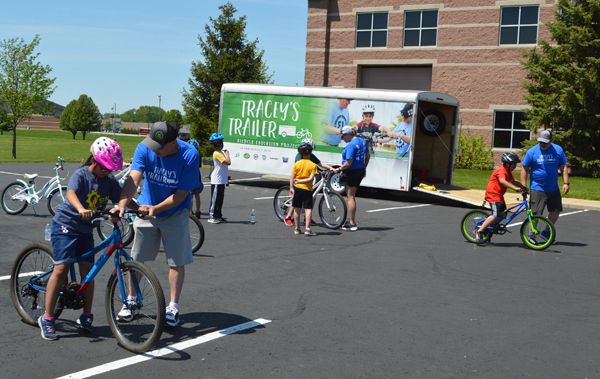 A week before the Fat & Skinny Tire Festival returns to the Winona Lake and Warsaw area, third-graders from Eisenhower, Claypool and Jefferson elementary schools took part in a "Bicycle Rodeo" to practice what they learned in the classroom over the last few weeks about bicycling.
Greg Demopoulos, co-founder and vice president of Kosciusko County Velo (KCV), said, "We are hosting, at Warsaw Community Church, the Tracey's Trailer Mobile Bicycle Education Project. So, that is a project that KCV puts on where we work with the school system to determine which schools they would like us to be at."
At the Bicycle Rodeo, the kids go through five stations. Demopoulos said they've had teams in the classrooms for the last few weeks to teach students about basic things to take care of on bicycles, basics of bicycle laws and rules, and then that culminates with the Bike Rodeo where they get to practice everything.
Each of the five stations is meant to teach something specific, he said. "So there may be stop signs, there may be U-turns, there may be yields. We even have a station over here where we have a whole team of volunteers that are helping kids who may not really even know how to ride a bike yet."
Some of the bikes at the Rodeo have their pedals taken off. Demopoulos said it's a balancing technique because riding a bicycle is about balance first.
"Once you know how to balance, then you can do everything else a lot easier," he said. "So we're teaching them how to get comfortable on just pushing the bike and balancing it. And then once they get that down, they move on to the next station where they start to learn, 'OK, I learned the balance, now I push the pedals and do the same thing that I was doing before.'"
For each Bicycle Rodeo they do, Demopoulos said they try to get sponsors.
"The Noon Optimists have been a great partner. They actually helped pay for all of the helmets this year, so they've also brought volunteers," he said. "But then there's also, we're partnering with the schools so Pete Barnett and some of the kids from his class are helping. All the teachers from the third-grade classes for the schools we're with are here. And then KCV brings a bunch of volunteers who have been through different bicycle lead training."
Joe Bumbaugh, Noon Optimist Club member, said the Bike Rodeo was founded by the Club about 20 years ago.
"It was primarily just the one school. Now, it's evolved because Tracey's Trails is involved with it. They're providing 40 bicycles for the kids, where as before, we had students bring their own bikes in and it just makes it a little bit easier to have the bicycles provided by Tracey's Trails," Bumbaugh said.
The Noon Optimists provided the helmets for all the kids. For Friday's event, he said they purchased 162 helmets, spending almost $1,300.
"The Noon Optimists are about the youth of the community and this is one of the activities we do for them," Bumbaugh stated.
There's also a coloring contest all the students participate in prior to the Bike Rodeo and the top three winners in each of the eight classes is chosen. The 24 prizes are bicycle safety-related. Door prizes for some of the other students also are handed out.
"At the end, the Noon Optimists provide Dilly bars for everybody so fun is had for all," Bumbaugh said.
While three Warsaw schools participate in the Bike Rodeo in the spring, two will participate in the fall.
"We're trying to expand it into all Warsaw Community Schools to have a bicycle safety day for them. Tracey's Trails goes into the schools prior to the Bike Rodeo," Bumbaugh said.
Sheryl Harlan, president of the Noon Optimists, said the Noon Optimists are a friend of youth.
"Everything that we do – our fundraisers, everything – is in support of the communities and the schools. We also do things with The Beaman Home, things like that," she said.
Harlan said the Noon Optimists seem to be a really well-kept secret. They meet at noon Mondays at the Alpha Dining Hall at Grace College, which is a little later than the Breakfast Optimist Club that most people are more familiar with, she said.
"Everyone is welcome to come. There's lunch there," Harlan said. There is a process to be involved with the Noon Optimists. She said they are trying to increase their membership numbers to help go out into the community.
The first year for Tracey's Trailer was 2017, Demopoulos said.
"For years, we've been helping at the schools doing bike rodeos, whether it was working with the Optimists or working with Trailhouse, but KCV specifically got funding and took on – we've got a trailer that is stocked with different sizes of bikes and so we can just show up. We have all the cones and everything. We just show up and set up all the stations and then that way kids don't have to worry about – and parents don't have to worry about – bringing bikes to school and picking them up later," Demopoulos said.
Tracey's Trailer was named after Tracey Yeager.
"Tracey Yeager was such a huge blessing and proponent of the trails and bicycling, and so the folks at Sym (Financial) and Steve (Yeager) reached out to us six years ago and said, 'Hey, we want to be involved in the community and we have this fund, the Tracey's Trails Fund.' So that fund is really what allowed us to get this off the ground, and so each year they come back to us to see what do we need, how can they help," Demopoulos said.
He said KCV is working with the Ride + Walk Committee and the schools to try to get more opportunities "especially as we start to see more kids in each of the schools, the neighborhoods they live in, how much are they out riding their bikes and then we're trying to make sure that, how do we help provide the training and education at those schools."
Eventually, Demopoulos said, they would love to have the bicycling program at every WCS elementary.
There's an opportunity next weekend for kids to learn about bike safety.
"We'll also mimic this and do this next weekend at Fat + Skinny Tire Fest, so any kid can show up, whether they have a bike or not, and we'll do not as many stations but we'll do some of the basic stations and have kids activities at Fat + Skinny," Demopoulos said.
If anyone wants to contact KCV about the program, they can touch base with them through social media under KCV Cycling or on the website at KCVcycling.org.
"Come out to Fat + Skinny next weekend," Demopoulos said.