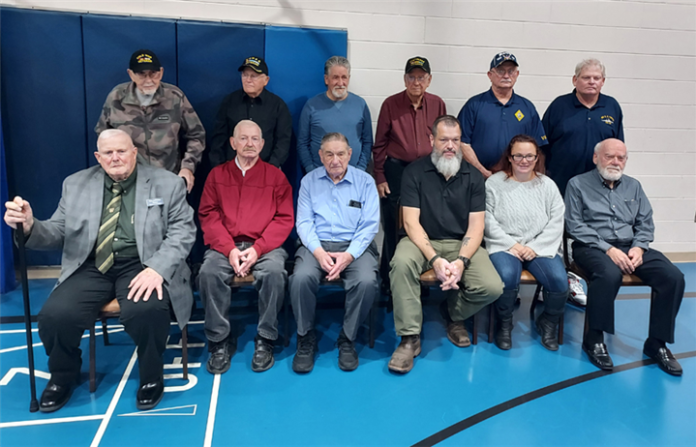 Twelve veterans were honored Wednesday with quilts during the Threads of Valor ceremony at the Senior Activity Center/Pete Thorn gym, 800 N. Park Ave., Warsaw.

Those honored were Dale Borkholder, Rodney A. Chiddister, Maynard Hall Jr., Marvin Mast, Matthew and Tracey McClelland, Dannie Patrick, Gary Paxton, Francis Rickel Sr., Paul Rogers Jr. Robert Swanson and Charles Wilke.

Liberty Sewing Circle member Marsha Huffman said Wednesday's event was the 14th event that has been put on.

In fall 2015, two local ladies started meeting at Warsaw's VFW to make quilts for veterans in Kosciusko County in nursing homes and homeless shelters in Warsaw, Huffman said.

In 2015, a special request was made to the Liberty Sewing Circle to make a large quilt for a veteran in a nursing home to celebrate his 90th birthday. The Circle's vision grew with that by making standard-sized quilts for nominated veterans in Kosciusko County, Huffman said.

She said the Circle needed a time and place to meet. It was worked out the Circle could meet on Saturdays at the Senior Center.

The quilts are awarded as a token gift of appreciation to local veterans and to thank them for their services and sacrifices. Of the quilts that have been given away, Huffman said about 55 veterans who received the quilts have died. She said her heart breaks when she hears of a local veteran's passing that the Threads of Valor has gotten to know. But it rejoices her they were able to honor them before they died.

She said those honored Wednesday were not being recognized as mere airmen, sailors, soliders, Marines and National Guardsmen, but also as local heros.

"They've set aside their civilian lives, left the comforts of home and answered the call of duty to this great nation," she said. "These courageous cornerstones of our community put on a uniform, many risking life and limb in the face of great dangers in the service of our country. And they were protecting the ideals of America: liberty, freedom and justice, all of which we benefit from today. We must never forget the untold sacrifices they have endured for us here and  around the world.

"They, their military brothers and sisters, as well as those who have gone on before, have shaped America into what it is today. They represent the foundation of this country and pillars of our society," she said.

She said the veterans came from all walks of life, but share some fundamental qualities: courage and pride, determination, dedication to duty and integrity. She said all those are qualities are needed to serve a cause larger than themselves.

"They rose and stood that call of duty to protect and defend our great nation, as well as the world, against tyranny and oppression," she said. "For this, we humbly say thank you."

Kosciusko County Veteran Service Officer Darryl McDowell said it was always emotional for him to recognize veterans because of everything they go through every day and sacrifices.

Throughout the history, men and women have always been asked to step up and defend liberties all the way through today starting with George Washington. He started things with a volunteer force, and "believe it or not, there was a draft." It started America's first step toward independence from the British.

Vietnam is not the only war with the draft. In fact, there were six wars with draft. In 1973, those drafted were the last draftees to serve. Since then, the Armed Forces have been all volunteer.

Knowing that, it's more important to never forget the sacrifices of those who served, he said. Few received formal recognition. By continuing to remember all those that serve, recognizing their willingness to endure hardness and fears upon themselves "so the rest of us could live in peace," it couldn't even put words to their sacrifice, he said.

"Remember now because they bear the terrible burden so others do not have to carry the painful weight of war," he said.