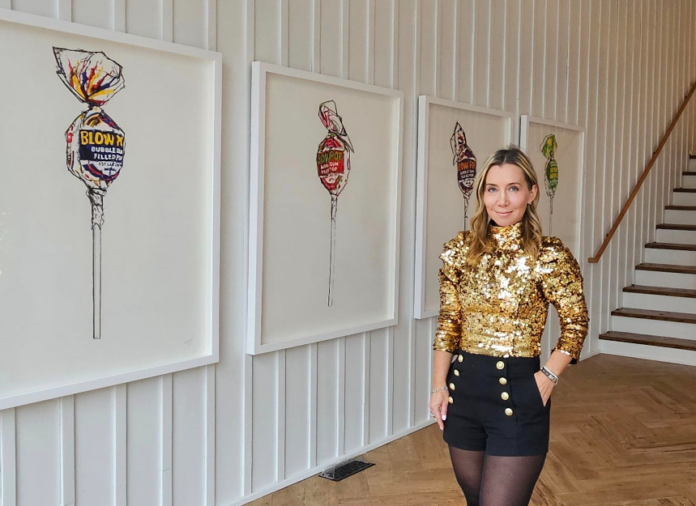 News Release
WARSAW — Warsaw's newly-opened contemporary art gallery, Atelier, will present its fifth exhibition, a confection-centered holiday show that opens with a reception Thursday night and continues through December.
Sugar Rush is a solo exhibition of paintings on paper by Puerto Rican artist Eduardo Cabrer. 
The show includes 18 largescale works featuring nostalgic sweets and treat such as Necco Wafers, Blow Pops, Bazooka Bubble Gum and Sugar Daddys.
Sugar Rush opens tonight with a reception from 6 to 8 a.m. and runs through December 30.
The gallery is at 104 E. Center St., in Warsaw.
Atelier's holiday hours are Wednesdays and Thursdays from 11 a.m. to 4 p.m. and Fridays and Saturdays from 11 a.m. to 8 p.m., according to a news release.
Sea Grandon, owner and director of Atelier, says the show will be an idyllic outing for family and friends this winter.
In depicting mass-produced commercial candy products, Cabrer uses line, color, and hand-lettering to transform the infinitely repeatable into the individual. The result is unique crinkled wrappers and tangible sticky sweetness — what Cabrer terms "visual triggers" designed to engage viewers and their memories.
Cabrer's ties to the sugar industry are geographic and familial. Indeed, the bubblegum-infused Blow Pop launched his current work's direction.
The Blow Pop originated in Ponce, Puerto Rico, at the Ponce Candy Company, a division of
Charms Candy. Jesus Alicea, a Ponce Candy production manager, claims to have invented the lollipop out of necessity in 1947. When other fillings were not available, Alicea instructed his team to put bubblegum in the Blow Pop's center to maintain their manufacturing schedule, the news release said.
The Puerto Rican sugar industry is one of the oldest in the Western Hemisphere, begun when Spanish colonists transplanted cane from the Dominican Republic and established a sugar mill in the mid-1500s. A longtime economic engine for Puerto Rico, the island's sugar industry produced 12.5 million tons of sugarcane from more than 400,000 acres and processed over 1 million tons of raw sugar at its peak in 1952.
"My great-grandfather worked in the sugar industry, and my family has been tied
to the development of sugar for four generations," Cabrer says. "I guess this work
is also my way to be involved with sugar. I think it's interesting that I find myself
exporting sugar goods to the northern states."
Grandon first encountered Cabrer's work at Aqua Art Fair
during Art Basel Miami in December 2022. "I was immediately drawn to these
large-scale, colorful works, with their unique combination of recognizability and hand-drawn virtuosity," Grandon says. "Cabrer's booth was spectacular, and he sold out the show during art week. I completely succumbed to the sugar high and knew I had to both collect his work and show it at the gallery."
Admission to the gallery is free.
Atelier opened nearly a year ago. Look for a feature story on Grandon and the exhibit as well as an interview with her on this week's In The Know.