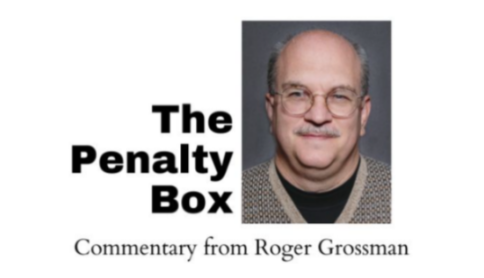 By Roger Grossman
News Now Warsaw
WARSAW — Robert Montgomery Knight passed away last Wednesday at the age of 83. He had been in failing health for a few years. He stopped making public appearances and was no longer speaking in public forums.
Current coach Mike Woodson was able to engineer Knight's final walk out of the tunnel from the locker room to the floor in 2020 —20 years after he was fired from sitting on that bench and coaching that team himself.
He was dying then, and everyone around him knew it. No one wanted him to pass without making sure he heard that roar one more time.
Knight might be the ultimate enigma in the human universe. No one person, certainly in the sports world, achieved so much that was good and yet spoiled their own reputation like Knight did.
On one side of the ledger: 902 wins in 42 seasons; three national titles as coach; coached the last unbeaten team in NCAA history … almost 50 years ago; one of three men's coaches to play on and coach a national title; won gold medals as head coach of 1984 U.S. Olympic team and 1979 U.S. Pan American team; 11 Big Ten regular-season championships and was eight-time conference coach of the year; three-time AP Coach of the Year; inducted into the Basketball Hall of Fame in 1991 and the College Basketball Hall of Fame in its first class in 2006.
Beyond all of that, about the worst problem he had with the NCAA was Steve Alford appearing in a sorority calendar that was sold for money to help a charity.
His program was clean, and he wouldn't stand for it any other way.
When it came to game planning, in-game adjustments and coaching his players on the fundamentals of the game of basketball, there was no one better … ever.
That same man had another side — a very, very dark side.
In 1979, while coaching the US basketball team at those Pan American games in Puerto Rico, he punched a police officer and was arrested. He was convicted of misdemeanor assault but never served any jail time.
At the Final Four in Philadelphia in 1981, after the Hoosiers beat LSU in the semis, a Tiger fan yelled something foul at Knight as he walked through a hotel lounge. Knight challenged him to repeat what he had just said and admitted later that he knocked the fan down and then threw him up against the wall.
In 1985, with the Hoosiers hosting Purdue, Knight was assessed a technical foul for arguing a call. While Steve Reed was standing at the free throw line, the coach grabbed his chair and slung it across the floor. It skidded all the way past Reed to the far corner of the court.
Knight was ejected.
In the preseason of the 1987-88 season, the Hoosiers were playing an exhibition game against the USSR National team. Knight was mad at the officials and, in the heart of the Cold War, pulled his team off the court. It became a bit of an international incident, and Knight admitted later he wished he'd handled it differently.
In 1988 when he was being interviewed by Connie Chung. Knight was asked how he handled stress. He infamously responded by saying "I think that if rape is inevitable, relax and enjoy it … the plane's going down, so you have no control over it." He immediately tried to clarify that he wasn't talking about the act of rape, and he asked CBS not to include that part of the interview in the piece. We all saw it.
In 1997, Knight was captured on film with his hand forcefully around the neck of player Neil Reed. The video didn't surface for three years, but it led then-IU President Myles Brand to suspend Knight for 3 games and fined him. He also informed the coach that the next misstep would be his last in Bloomington.
He never made it to the next season. He was walking into the Assembly Hall and a student spoke to him. Knight felt disrespected and grabbed the student by the arm. "Zero policy" violated. Knight was fired.
How did it go that far?
We only need to look at the reactions by IU administrators and fans to these incidents to understand.
Knight throws the chair and gets ejected—the athletic director came to the court to emphatically complain to the referee for the ejection rather than remove his coach. Fans chanted his name as he walked out. IU took no further action.
Knight's rape reference: student protested … in his defense. Just "Bobby being Bobby," was a common explanation.
How odd is it that a man who was a legend for demanding composure, discipline, execution and excellence in every way from his players couldn't do that himself?
How sad is it that someone who clearly did so many excellent things for young people cannot be celebrated for it outside of Hoosier Nation because he was the worst possible role model for how to act when things don't go your way?
How ironic is it that a man who lived his life so loudly died so quietly?
Makes you wonder if they honored his wish — you remember, that one he talked about during that 1994 Senior Night speech — and buried him upside down.
Probably not.
* * * 
Roger Grossman has been covering local sports in Kosciusko County for more than 30 years and is employed with News Now Warsaw. You can reach him at  rgrossman@kensington.media.