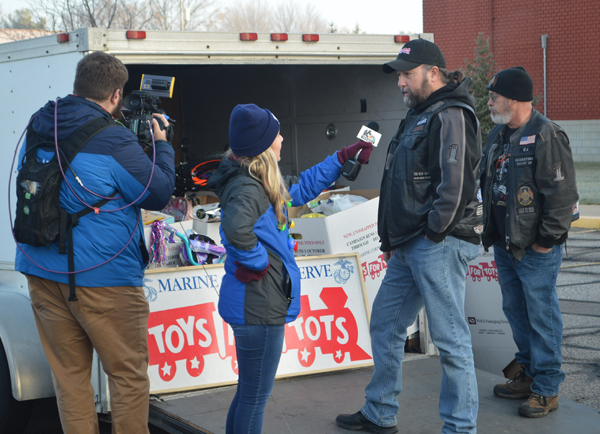 From every corner of Kosciusko County they came to Martin's Super Market in Warsaw on Saturday to deliver their donations to the Toys for Tots toy drive.
Some came in large groups, like the Kosciusko County Fireman's Association; some came in smaller groups, like the Syracuse American Legion Post #223 Riders; and others just came by themselves. But by the end of the four-hour event, thousands of new, unwrapped toys had been given for less fortunate children in the community.
Chad Berkeypile, director of Syracuse American Legion Riders, said this was their third year of doing Toys for Tots.
"We collect them by putting boxes out around businesses. And we did a brisket dinner, we do that in Syracuse, back in October, raising money that way, and then we go shopping for them all when we get the money all raised up," he said.
Berkeypile guessed they raised about $3,000 to $3,500.
"Toys for Tots is pretty easy (to collect for) because people love to give for the kids," he said. He said they start collecting in October.
The Fireman's Association staged at JB's Furniture before parading their 30 trucks with their sirens and lights on to Martin's to drop off the toys the various fire departments throughout the county collected.
President Kevin McSherry couldn't recall how many years the Fireman's Association has participated in Toys for Tots, but said they do it every year and it's "just automatic."
"We are collecting (funds) now for next year," he said Saturday morning. "We don't necessarily start toys now, but we would. We've got 14 fire departments, 450 firemen – men and women – and we're at it year-round."
During the Seward Township – Burket Fire Department fish fries this past year, any extra money received went toward Toys for Tots.
"If their bill is $18 and they give us $20 and say, 'Keep the change,' we have a computerized system that puts that (extra) money aside. And for all of our fish fries, the 'Keep the change' goes to Toys for Tots," McSherry said.
That extra change amounted to over $1,000, he said. "We got bicycles and just bags and bags of toys. But over $1,000 worth."
Of all the fire departments that participate, Milford Fire Department is the "hard one to beat" as far as number of donations collected, McSherry said.
Milford Fire Department Chief Virgil Sharp said they did very well again this year, "about the same that we've had the last few several years."
He said they started collecting about two weeks ago.
"We have a lot of generous guys that donate from the department and things, and then a few of the wives and guys will go shopping a couple different times, and then they end up getting what they can get with the money that we've had, and that's how we do that," Sharp said.
He said they ended up with lots of bicycles, toys for all ages and even some clothes. One Milford fireman just donated a check to Toys for Tots.
Chris Cage, from Willie 103.5, is the new coordinator for Toys for Tots of Kosciusko County, taking over this year from Dave Morales, who had served as coordinator for about 30 years.
"The fire department always comes through," he said. "It's great to see them come together and help out the kids here in Kosciusko County."
WNDU Channel 16's anchor Melissa Stephens and meteorologist Matt Yarosewick were on hand Saturday morning in Warsaw for the toy drive.
Yarosewick said this was WNDU's 27th year and they did it to "give back to the community and raise awareness because we broadcast every year on this Saturday. We're out here for three hours, different spots around the area, so we're really just trying to raise awareness. Not everybody has the opportunity to have a great Christmas, have all that, so we've got people who like to donate, give these gifts. All the local kids that need them, now they've got something to open on Christmas. That's why we do it."
Saturday morning started with fog, but the sun eventually peaked out.
"Here in Warsaw, I think the morning started a little slow, with some dense, freezing fog. Now it's sunny, we've got lot of people walking over with handfuls of toys," he said. "So I think it has a little something to do with the weather, but we lucked out and we don't have any snow to deal with."
Yarosewick said Saturday's Toys for Tots drive was a highlight of the year.
"Especially in my book. I've never done a Toys for Tots, but I'll definitely be back next year. This was definitely a highlight, especially for me, but I know it's all of us at WNDU. We all love doing it," he stated.
All last week, radio station Willie 103.5 started collecting toys in an RV at Meijer.
"The toy drive at Meijer went really well. We pretty much filled up the camper, the RV here, and there's going to be a lot of smiles come Christmas morning. We filled up the back part and the very front part, so very excited about how the community came together and really just filled the thing up," he said Saturday just shortly after 9 a.m.
The toy drive with WNDU was going "really good" at that time.
"We've had some really generous donations. We just had the Syracuse American Legion Riders show up with a trailer fuller of toys. So much so that we didn't even unload them, we just took them to Santa's Secret Workshop and unload them there," Cage said. "We had Echoes of the Past come out with a very generous donation, and lots of TV viewers and the community has come out with toys as well. So it's been very humbling."
The Warsaw Community High School Select Chorale sang Christmas songs during the morning again, Cage said, while Martin's took care of everyone with doughnuts and the use of the parking space.
"It's been a great moment," he said.
If anyone was unable to make Saturday's toy drive, Cage said the donation boxes will still be out at various locations in the county for about another week. If anyone needs any further information including the drop-off locations, visit toysfortots.org.
He thanked everyone for their donations.
"We know the need is great this year, and with everything going on, make sure we fill that need, and it looks like with everything and the community's help, we're going to be able to do that. So thank you," he said.
Saturday also was a special day for the county's fire departments, McSherry said.
"We're signing the radio quotes, making them into orders, for the new radio system," he said. "The county voted (Friday) to fully fund the police, fire and ambulance here in this county. So that's a big day. A big, big day for our county."
The county is using American Rescue Plan Act dollars to fund the radios, at a price tag of over $1.9 million.
McSherry said the county's decision made giving to Toys for Tots "that much sweeter."
"We've worked hard for this system. It's been a big need for several years. We've put little band-aids on it and, along the way, they keep us going, but this will be the ultimate fix, and it's a very expensive system, but it will take us well into the future," McSherry explained.
It will be countywide, from end to end, complete coverage. McSherry said the departments will get the radios in late January or early February, but for the system itself, they've got to build three big towers yet.
"They're having trouble getting the tower company to build it, the steel to build it with and everything is pushed back like everything in our world today," he said. "It's a great day for the fire service of Kosciusko County."