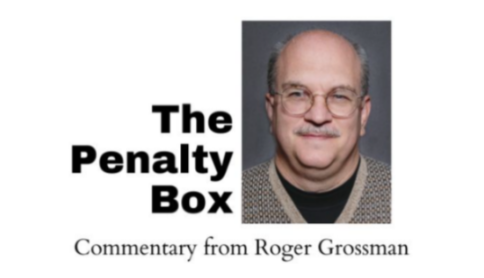 By Roger Grossman
News Now Warsaw
WARSAW — I know, Halloween was yesterday.
But I spent a few minutes watching the Charlie Brown Halloween special this week, and it got me thinking about the concept of trick or treat when it comes to sports. Who has been a trick, and who has been a treat for sports fans?
As a lifelong personal policy, I save the best for last. But for this discussion I start with those people who have been a "treat" in sports.
Let's start with Manchester football, who won 3 games out of 9 in the regular season but have won 2 in the 2A playoffs. Like the kudos I hoisted toward Wawasee last week, I do the same for the Squires this week.
They could have just taken their lumps and went on to the next thing, but they chose the hard road and they have been rewarded.
Here's hoping the underclassmen for those two schools have found a renewed motivation to work on football to make those programs better for next August.
Also a treat this fall is the story of Bears quarterback Tyson Bagent.
This kid literally came out of nowhere to make the Bears roster in August. He went to Shepherd College in Shepherdstown, West Virginia — enrollment about 3,200. Two years ago, he won the Harlon Hill Trophy in 2021, which is best-described as the Heisman Trophy of Division II football. He passed for 5,000 yards with 53 touchdowns in 15 games.
He came to the Bears as an undrafted free agent who was given a tryout, and he made it into a preseason game and looked like he belonged.
Last weekend, he started for the Bears on Sunday Night Football.
It's a reminder to everyone that if you are good enough to play at the next level—whatever level in whatever sport you're talking about — people at the next level will find you.
I have no clue how long it will last, but it's a fun story to tell.
My other treat is Blackhawk rookie Connor Bedard.
The hype about this kid has been outrageous since about Christmas time last year when experts started crafting their NHL Draft boards.
He's 18 years old, and when you take a look under his helmet he looks very much like and 18-year old guy.
But he doesn't skate like he's 18, he doesn't handle the puck like he's 18, and he doesn't talk to the media like he's 18 either.
Chicago won't make the playoffs this season, but they most certainly are showing potential free agents that Chicago is a team on the rise.
How about one more?
The Major League Baseball playoffs have been fun to watch this month. There is much wailing and gnashing of teeth about the fact the teams who had the best records and got a few extra days off as a reward for their great regular seasons were ushered out of the playoffs early.
Look, the organizing body of the sport can only do so much to help the No. 1 seeds advance. The teams still have to win games to win championships.
I think what they will ultimately come up with as a solution will be to add two more teams so that no teams get first round byes.
Of course, what will we do when that plan doesn't work either? It's baseball, right?
Those are not all the good stories from the fall sports season, but it's a sample of them.
And who put the rock into our candy bag this autumn? Jim Harbaugh did.
Over the last three weeks the story of a Michigan Football staffer going to future opponents' games has had sports fans scratching their heads.
If you haven't heard about it, a Wolverine staff member bought tickets to opponents' stadiums to scout their teams in person—which is a huge no-no….you can't do that.
Now the "duh" part of the story is that he bought those tickets online under his own name! I am not a big fan of digital ticketing, but digital tickets made tracing this growing scandal back to the Michigan program simple.
And just like all of the other black clouds that follow Harbaugh around, he claims to have no knowledge of any of it.
Stunning.
Happy Halloween, everyone.
Halloween Tip: Don't hand out "Fun Size" candy bars. False advertising. There is nothing "fun" about bite-sized candy bars.