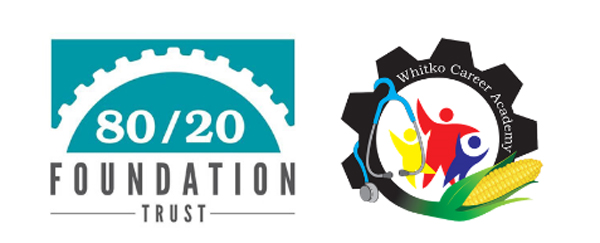 One year after an initial investment of $400,000 in 2019 to begin the Whitko Career Academy, the 80/20 Foundation Trust, led by John Wood and the Board of Directors, decided unanimously to invest an additional $2,433,877 in the future of manufacturing.
Whitko Community Schools will use the grant funding for renovations to the Larwill campus and investments in technology that will propel the career academy toward success in courses focused in engineering and skilled trades, according to a news release from Whitko.
"Through the engineering program, students will learn to use the most up-to-date CAD, 3D modeling software and equipment to learn fundamental drafting, geometric constructions, ANSI standards, residential design and site work. Students will be prepared for career paths as engineers, architects and interior designers," said Director of Whitko Career Academy Joe Luce. "Skilled Trades students will learn numerous aspects of construction through hands-on completion of different building projects. Students will be preparing for careers in carpentry, masonry and cost estimating, with a cross over into advanced manufacturing, engineering and automation."
The 80/20 Foundation Trust was born from the legacy of Don Wood, 80/20 Inc. co-founder, along with his sons, John and Doug Wood.
The foundation aims to fill the pipeline for skilled workers in the manufacturing industry, as well as to foster leadership, sales, innovation and entrepreneurism, the release states. The foundation trust started in fall 2017 and received its nonprofit status in summer 2018.
The 80/20 Foundation Trust is led by John Wood, who sits as chairman of the board, and Laura Macknick, inaugural executive director. While it shares its namesake with 80/20 Inc., funding for the 80/20 Foundation Trust comes directly from the Don Wood Estate, and plans are underway to update the foundation name to further clarify that distinction.
John Wood, a machinist himself, has spent his entire career in manufacturing and is passionate about all things mechanical, according to the release.
"We're happy to provide this funding to retrofit the Larwill building and to purchase new equipment that will be necessary for the success of the Whitko Career Academy," he said.
As for the funding, potentially the largest grant given and received inside of Whitley County; funds will primarily be dispersed across investments in technology and building renovations at the Whitko Larwill campus. Expenses of the project include nearly $1 million in machine and welding equipment and tools inclusive of six CNC mill lathes, three CNC 3D printers, nine manual/CNC lathes, engineering computers, one screen touch boards, tool storage, welding booths, plasma table, chop saws, six Lincoln Welders, silver solder torches and fume extractors and a welding fixture table.
WCA necessary teaching staff and support will receive $300,000 to fund positions in agriculture, healthcare, cosmetology, agriculture maintenance and mechanical, precision machine, career, construction, construction/engineering and maintenance teachers as well as a machine shop aid, work placement specialist and an administrative assistant for WCA.
Meanwhile, another $1 million of the grant will be directed toward site renovations including an advanced manufacturing laboratory and entrance lobby to the AML, AML tool crib, an engineering laboratory, welding lab, fabrication lab and corridor upgrades which will include the removal of the existing carpets and an installation of epoxy flooring. Additional minimum exterior upgrades such as stone access routes for deliveries and repairing disturbed glass areas of the building will also be used by this portion of the grant.
"We know there are a lot of career paths, and a four-year degree is appropriate for some students, but for others, they can earn a strong living wage right here in Whitley County. The board's desire is to promote the Whitley County economy through this grant and cultivate our own talent within the community building a stronger skilled workforce," said Macknick.
Asked to comment on the partnership between Whitko Community Schools and the 80/20 Foundation Trust, Whitko Superintendent Dr. Brandon Penrod said, "Our gratitude toward the 80/20 Foundation Trust cannot be overstated. Especially with this most recent grant, we consider ourselves very fortunate to have a partner who can support our school at this level. We are witnessing excitement from our Whitko families for the future of their children because of this investment in the career academy. It's an incredible gift we've been given, and we believe it is providing momentum for students well beyond their years at Whitko as they move into careers and vocations right here in their local communities."
Whitko Career Academy and Whitko Community Schools is slated to begin their first day of school on Aug. 13.